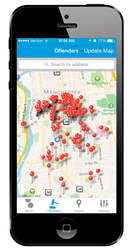 Nashua, New Hampshire (PRWEB) August 20, 2014
Users of location-based app, ping4alerts! now have access to information that could prove vital for protecting themselves. The app provides a map-based screen showing precisely where sex offenders live, their name, a physical description, photograph, qualifying offenses, and criminal record throughout the entire United States!
"After the overwhelming response from our users, we are proud to make this feature available to the country," said Kyla Natali, Public Relations Manager. "By making this public information incredibly easy for anyone to access on their mobile devices, Ping4 Inc. hopes to arm the public with relevant, timely information and to let users take action to protect themselves."
Ping4alerts! is a free iOS and Android app that uses the location based technology inherent in today's smartphones to deliver notifications within a highly-localized area. Ping4 Inc. protects user anonymity and does not require users to provide any personally identifiable information such as a phone number, street address, or email address.
This new feature can be used to provide users with the most practical and helpful public safety information to easily identify registered sex offenders who live in a specific area. Users can utilize this feature at home, at public parks, to identify safe travel routes to school for children, on college campuses, or when moving into a new area.
The data is based on public records and the application translates the offender's last known address into geo-coordinates. The app lists information of only Level 2 and Level 3 sex offenders. Level 2 offenders have a moderate risk of repeat offense and Level 3 offenders have a high risk of repeat offense and pose a threat to public safety. The duration of Level 2 and Level 3 sex offenders requires them to be registered for life.
"Ping4 Inc.'s mission is to help keep citizens safe and informed, in any situation," Natali said. "The value of our product is its ability to deliver time sensitive, relevant information to our users based solely on location."
The feature was introduced in April, but the data was only made available in select states. Thousands of users across the country wrote in to request their area be supported to receive this data. Ping4 Inc. is looking to add more public safety content to its map-driven interface such as historical crime data (break-ins, thefts, and assaults) and predictive crime data—where crime is most likely to happen.
To download ping4alerts! for free, simply visit the App Store or Google Play.
About Ping4 Inc.
Ping 4 Inc., is a Nashua, New Hampshire mobile communications startup that delivers real-time, location-based alerts to any iOS or Android mobile device. Public safety agencies license the platform to keep citizens informed of extreme weather events and other fast-moving situations. Consumers are not required to give up any personally identifiable information. User identity is 100% protected. More information is available at http://www.ping4.com.
Contact: Kyla Natali
Public Relations Manager
Email: Kyla(dot)Natali(at)ping4(dot)com
Phone: (603) 548-8533