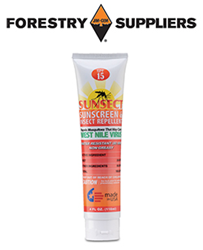 'Our staff of experienced natural resource professionals with diverse and extensive backgrounds are constantly on the lookout, and our experience helps ensure we provide the best products and support available.'
Jackson, MS (PRWEB) August 20, 2014
For its outdoor professional customers, Forestry Suppliers announced several new product lines including Garmin vivofit Fitness Bands, RAM smartphone and tablet vehicle mounts, Honda super quiet generators, and Sunsect combination sunscreen and insect repellent. "We want to offer our customers the best new products available," said Brigg Abercrombie, Product Manager at Forestry Suppliers. "Our staff of experienced natural resource professionals with diverse and extensive backgrounds are constantly on the lookout, and our experience helps ensure we provide the best products and support available."
Forestry Suppliers recently added Sunsect, a patented sunscreen and insect repellent combination product that provides lasting protection against biting insects and damaging sunrays. While other sunscreen and insect repellent combination products can deactivate each ingredient by up to 50%, Sunsect's unique combination provides full protection. Sunsect has been trusted by the military for over fifteen years and is manufactured in the USA. Sunsect is safe for children, unscented, non-greasy, water resistant, dries clear, and lasts for hours. This product uses 20% DEET to repel mosquitoes, ticks, no-see-ums, black flies, sand gnats, gnats, chiggers, chitras, and other disease-carrying, biting insects. Sunsect aids in the prevention of arthropod-born infections such as Chikungunya, Dengue fever, Lassa fever, Leishmaniasis, West Nile disease, Lyme disease, malaria, and the encephalitides. In addition, the SPF 15 provides PABA-free protection from both UVA and UVB rays that cause skin cancers, melanoma, and premature aging.
Forestry Suppliers now carries five models of Honda Super Quiet Generators. Designed for exceptionally quiet operation, three lightweight Honda generators feature an enclosed body and offer portable power. For powering items such as a TV, lights, fans, small power tools, satellite, fridge, coffee pot, furnace, microwave, or AC units, one of three models will meet these power-generation needs. Depending on the load, these models run up to 8.3, 9.6, and 20 hours of power on less than a gallon of fuel, respectively. Two additional models offer a larger fuel tank capacity and include a roll-cage, wheel kit and electric start. All five models feature advanced inverter technology that provides stable, reliable power for computers and other sensitive equipment. The Eco-Throttle™ system ensures increased fuel efficiency by allowing the engine to run only as fast as needed for a given load. Oil Alert® protects the generator by automatically shutting off the engine if a low oil level is detected. Each generator also features a USDA-qualified spark arrestor/muffler and circuit protection to prevent overload.
RAM Mounts partnered with Forestry Suppliers to carry select models of its Universal X-Grip Cradles for phones, tablets, and more. Without hiding the smartphone or tablet behind foam pads and plastic, the X-Grip features four legs and multiple adjustment points for optimum viewing. Its stable design is ideal for use in vehicles, off-road ATVs, boating, aviation, and other transportation modes. The X-Grip is simple to open and close, with soft rubber fingers to keep devices safe and secure. Made in the USA, the X-Grip complements the sleek interior of today's vehicles and is compatible with a wide range of mounting solutions. To meet the needs of customers and their preferred technologies, the Universal X-Grip Cradle mounts are new additions to Forestry Suppliers' current selection of RAM Mount models.
Garmin vivofit Fitness Bands are now available from Forestry Suppliers. With Garmin's vivofit Fitness Band, all it takes is one look at the easy-to-read display to see how many steps you've taken, distance traveled, calories burned, and time of day. This water-resistant, wearable device learns the wearer's activity level and assigns a personalized daily goal. As milestones are met, vivofit adjusts future goals toward a healthier lifestyle. Throughout the day, it reminds the wearer to take more frequent, short walk breaks. And at night, the vivofit monitors rest. Overall progress can be seen by wirelessly syncing the vivofit Fitness Band with an Apple or Android smartphone via the Garmin Connect free mobile app.
About Forestry Suppliers
Forestry Suppliers, Inc. is a worldwide supplier and distributor of general-use and specialty products and equipment for natural resource professionals. Their annual catalog and website contain a complete selection for a wide range of outdoor industries, including forestry, agriculture, arboriculture, landscaping, horticulture, grounds maintenance, surveying, engineering, remote sensing, vegetation management, construction, home inspection, utilities, wildland fire fighting, geology and mining, archaeology, anthropology, parks and recreation, golf courses, wildlife management, fisheries and aquaculture, earth science education, environmental engineering, hazmat, and remediation.
Founded in 1949 by Jim Craig, former Mississippi State Forester, Forestry Suppliers, Inc. maintains a distribution warehouse and administrative headquarters in Jackson, Mississippi. For more information about Forestry Suppliers, visit them online at http://www.forestry-suppliers.com. Technical Specialists are also available at 800-430-5566 to answer questions about product selection and usage.