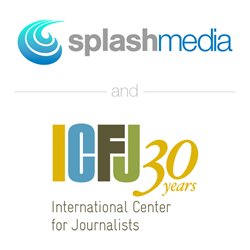 Splash Media and Dennis bring a world of cutting-edge knowledge to this exchange that will be of great value to our international participants.
Addison, TX (PRWEB) August 19, 2014
Dennis Wilson, Director of Production Services at Splash Media in Addison, TX, has been formally invited by the International Center for Journalists (ICFJ) by way of the U.S. State Department Professional Fellows Program to travel to Morocco for a two-week professional fellowship and study tour aimed at strengthening ties between digital communications professionals in the Middle East and the United States.
During his visit, Mr. Wilson will meet with digital experts at Mundiapolis University in Casablanca as well as businesses and institutions that are using digital media technology for communication to review their techniques and share insights.
The exchange program is organized by ICFJ, which has provided training and assistance to more than 80,000 journalists and media managers from 180 countries. With over 30 years of experience, ICFJ has assisted news organizations, media associates and journalism schools. The program is funded by the U.S. State Department through its Professional Fellows Program.
"Splash Media and Dennis bring a world of cutting-edge knowledge to this exchange that will be of great value to our international participants. Splash Media is helping to define the potential of digital marketing on an international scale," said Daniel Lynx Bernard, Program Manager for ICFJ.
Bernard continued: "Splash Media provided an outstanding learning experience when they hosted an international media professional at their office in Texas, and we're very pleased that we can bring that knowledge directly to peers in the Middle East and North Africa. Splash Media's approach to social media marketing is a great match for a program of international exchange because they construct and understand new networks that cross borders. Their counterparts in digital media around the world will be eager to share in these approaches."
John Dankovchik, CEO of Splash Media, said, "We are so honored to be a part of this great global program; it aligns perfectly with our global mission, as we are currently doing business in 21 countries."
About Splash Media:
Based in the North Dallas suburb of Addison, Texas, Splash Media has leveraged its expertise in video and television production since 2005, and launched a social media practice in 2010 that has evolved into one of the leading social media agencies in the country. Splash provides comprehensive social media services from consulting to full outsourcing. Services include online marketing strategy development, online reputation management (ORM), search engine marketing (SEM), search engine optimization (SEO), community management, content marketing (video and blog creation), and analytics/reporting, just to name a few. For more information, visit http://www.splashmedia.com.