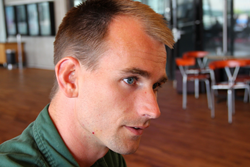 STOCKHOLM (PRWEB) August 18, 2014
Mats Horn and his team at Tinitell AB have designed the world's smallest phone. A voice activated wrist mobile phone for kids, it is preprogrammed with key contact numbers and ideal for children and parents to stay in contact.
All Tinitell needed was the funds to produce its durable and affordable innovation. It went to crowdfunding website Kickstarter with a goal of raising $100,000. Seven days later it had reached that goal and, by the time the listing ended, pledges had topped $140,000.
In the latest Beyond the Business Card podcast from gooibiz, a Mygooi company, Horn, an American who lives in Stockholm, examines Tinitell's successful Kickstarter campaign in a conversation with gooibiz' Ville Edgren.
The podcast was posted today at http://www.gooibiz.com/4.
Topics in the Beyond the Business Card interview include how to put together a pitch for Kickstarter, the importance of high tech projects in the Kickstarter niche, the amazing opportunities that exist for businesses bootstrapping in the digital space and Horn's journey as a product developer successfully attracting crowdfunding.
Edgren says Horn's key points for a successful Kickstarter presentation are to have a newsworthy high-tech product with a unique customer value proposition, and to put in the time and effort to produce a polished pitch before launch.
Tinitell's Kickstarter presentation is at https://www.kickstarter.com/projects/960748838/tinitell-introducing-a-wristphone-for-kids. Its video is at http://www.tinitell.com.
Gooibiz' Beyond the Business Card (http://www.gooibiz.com/podcast) provides insider tips, practical advice and industry news geared to help listeners get the best from digital marketing. Its team of experts, led by Jon Buscall, Bernie J. Mitchell and Edgren, shares the latest tools, techniques and strategies that make the most of mobile, wearable and traditional browser-based digital marketing. Buscall worked with British canine behaviorist Karen Wild on the WildPaw Dog Podcast series honored as Best British Business Podcast at the 2011 European Podcast Awards.
About Mygooi
Mygooi™ is an energetic brand platform that is digital, creative, disruptive and global. Its portfolio of emerging products sizzle with IC/DC (Innovation and Creativity/Disruption and Community). Mygooi's utility and purpose are to bring people together with innovative digital products. Based in Des Moines, Iowa, and Chennai, India, Mygooi lives where the sun always shines and has as its mission to Go Where The Life Is.™
Tinitell is a Scandinavian-designed and engineered mobile phone, intentionally stripped down to the most basic functions. Designed to be worn on a child's wrist, it is intended to keep parents and children in contact. The company believes it should perform well and look cool - without being too pricey. Tinitell AB, founded in 2013, is based in Stockholm.
Kickstarter (https://www.kickstarter.com/) is a funding platform for creative projects, from films, games and music to art, design and technology. It is full of ambitious, innovative, and imaginative projects that are brought to life through the direct support of others. Since its launch in 2009, over $1 billion has been pledged by more than 6.8 million people, funding more than 67,000 creative projects.
See Mygooi updates and watch GooiNation grow on Facebook at https://www.facebook.com/mygooi.
Visit our website and download apps upon release at http://www.mygooi.com.
Mygooi supports the Cystic Fibrosis Foundation. Check them out at http://www.cff.org.
Media Contacts:
Jon Buscall, CMO
+46768637285
jonb(at)mygooi(dot)com
Mark Perlman
Mygooi
312-315-0707 / Markperlman55(at)msn(dot)com
Richard Greb
Mygooi
847-651-1445 / rgreb(at)aol(dot)com