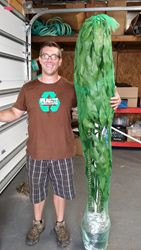 Tampa, FL (PRWEB) August 20, 2014
Just a few weeks ago, PLANTZ owner Steve Stanford received a message from a woman in Cleveland, Ohio who wanted to send her grandson a plant for his new retail store. Never mind the fact that this was an obvious trek from his business in Tampa, Stanford lived up to his motto of "any plant, any time, any place" and made it a personal mission to get a Lisa Cane to this deserving grandson.
Lisa Canes are grown on the islands of Hawaii, and then shipped to the mainland for distribution. PLANTZ takes pride in knowing that their Lisa Canes are from their natural Hawaiian environment as well. Stanford recently traveled to Hawaii and experienced the journey that these plants make, as well as the processes that they go through to ensure a safe travel for them, first hand - after all, their journey is over 4,000 miles to the mainland.
On this particular plant's adventure, the Lisa Cane traveled over 1,500 miles from Tampa, Florida to Cleveland, Ohio. After 4 days of flights, conveyer belts, and truck rides, it landed safely on the doorstep of the far-off customer, who was absolutely delighted with it.
PLANTZ is dedicated to customer satisfaction and the bettering of indoor environments by making them green. They offer many different services, ranging from office plant maintenance to event plant rentals, and work with customers to create the perfect interior landscape for their business or event.