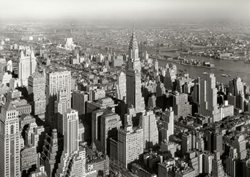 While the city is highly navigable by mass transit, this unique offer allows guests to discover the intricacies of New York City life only recognizable by walking its streets
(PRWEB) August 19, 2014
Triumph Hotels offers an opportunity for guests traveling throughout New York City to explore Manhattan's most iconic neighborhoods through a variety of complimentary NYC walking tours in partnership with Streetwise New York. Every Wednesday through Sunday, guests at Hotel Belleclaire, Washington Jefferson Hotel, Cosmopolitan Hotel, The Gershwin, Hotel Chandler, and Iroquois New York will be given a chance to explore the Upper West Side, Hell's Kitchen, TriBeCa, NoMad, Flatiron and Midtown neighborhoods respectively.
Streetwise, one of the most knowledgeable tour companies in the area, guides guests through well-known New York attractions, must-see events, and enchanting streets that allow guests of Triumph Hotels to discover what makes New York City one of the most frequently-visited cities in the world. From Bryant Park and the New York Public Library to Freedom Tower to hidden gems in Times Square to the Great Lawn in Central Park, this complimentary walking tour acts as a guide to "The City that Never Sleeps."
"Each of New York's neighborhoods offers a vibrant mix of cultures, cuisines, area attractions and things to do for couples, business travelers and families alike," said Gerald Barad. "At Triumph Hotels, we want our guests to fully immerse themselves in a true Manhattan experience while staying at one of our six boutique hotels, which is why we've partnered with Streetwise to offer complimentary neighborhood walking tours. While the city is highly navigable by mass transit, this unique offer allows guests to discover the intricacies of New York City life only recognizable by walking its streets."
Guests at any of the Triumph Hotels can make reservations for walking neighborhood tours online two weeks in advance. All reservations are based on availability. For more information, guests can contact the hotel front desk.
About Triumph Hotels
Triumph Hotels offers the key to New York City. Operating a collection of six unique hotels in some of Manhattan's most diverse and distinct neighborhoods, the company showcases distinguished architecture, gracious hospitality, and character that matches the hotels' dynamic surroundings. From the peaceful residential feel of Hotel Belleclaire on the Upper West Side to the elegant luxury of the Iroquois New York in the heart of Midtown, Triumph's hotels embody the spirit of the city, unlocking true New York City experiences for leisure travelers, business visitors and more.