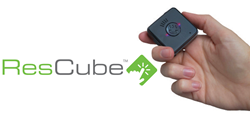 Consumers Digest Recognized ResCube as a Top Value
Houston, Texas (PRWEB) August 20, 2014
One Call Alert expands its line of personal emergency response systems (PERS) with the debut of ResCube, a fully-mobile wearable device that connects customers to the help they need with just one push of a button, 24 hours a day, 365 days a year.
ResCube can go anywhere—whether inside a home, around town, or cross country. It operates on the T-Mobile nationwide network like a cell phone, so it doesn't need to be plugged in to work.
Like with the other One Call Alert systems, ResCube wearers create a custom call plan that can include family, friends, neighbors, caregivers or local emergency services. With a built-in speaker and microphone, the user can speak directly to a trained operator. If ResCube is out of network and cannot locate a signal, it contacts the nearest emergency response center directly to ensure immediate help.
ResCube is the smallest device of its kind on the market at 1.75" x 1.75" x 0.69". At only 1.2 ounces, it can easily be worn around the neck, on a keychain, or simply in a pocket or purse. With a waterproof rating of IPX4, ResCube can be worn in the shower. The lightweight battery charges in less than two hours and can last up to two months between charges. Both battery strength and reception are monitored, and alerts are sent when the battery is low. ResCube comes complete with a micro-USB charger.
Consumers Digest recognized ResCube as a Top Value among Personal Emergency Response Systems in its July 2014 issue. Forty-three systems were considered based on factors that include monthly service rates, battery life, and response time. Since 1960, Consumers Digest has provided research and insight into products and services that helps customers make more informed purchases.
Many seniors don't want to feel housebound. Trips to the grocery store, doctor, post office or pharmacy are a part of their daily lives. With ResCube, wearers are given the freedom to safely leave home and still get help at the push of a button. "We're excited to offer ResCube and very pleased that Consumers Digest has recognized it as a Top Value in its 2014 industry survey," said One Call Alert founder and CEO Rick Russell. "This fully mobile system will provide comfort and peace of mind to countless individuals who prefer to age in place, yet are not ready to stay put."
For information about purchasing ResCube, visit http://www.OneCallAlert.com, email info(at)OneCallAlert(dot)com or call 800.994.2095. If you would like to schedule an interview, please contact: Amanda Beck at 713.600.6713 or email amandab(at)OneCallAlert(dot)com.
About Us:
One Call Alert and American Medical ID provide simple, inexpensive, yet vital tools that help people receive the best care and live safe, independent lives. For more than 20 years, we have served the medical community and the public at large by offering medical alert systems and a wide selection of medical ID jewelry that, in an emergency, allow medical professionals to give prompt, precise treatment. Founded by Rick Russell, president and CEO, One Call Alert and American Medical ID are based in Houston, Texas, USA.