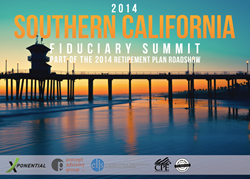 This summit will be both informative and inspirational for participants
Santa Ana, CA (PRWEB) August 21, 2014
The 2014 Southern California Fiduciary Summit is a workshop that brings together both local and national expertise to interact with employers made up of CFOs, HR Directors, and Business Owners. Speakers will provide insights to help employers reduce fiduciary risk, identify plan upgrades, and make better decisions that positively impact participants.
"We are pleased to bring together retirement plan leaders to exchange candid stories of success and discussions of best practices and providing practical approaches to ensure you are meeting your fiduciary obligations," said Doug Igel, managing consultant of retirement plan consulting for Precept Advisory Group. "This summit will be both informative and inspirational for participants."
Igel will be leading the discussion on fiduciary topics impacting local plan sponsors. Guest speakers include:

Linda Bright - Vice President and Managing Director - Precept Advisory Group
Maria Arriola, CPA – ELLS CPAs
-Tracy Tierney, Of Counsel - CGA Law Partners LLP

Jeremy Poincenot – Blind Golf World Champion
-Al Chingren, Vice President - American Century
Topics to be discussed:
1) What Every Fiduciary Needs to Know for 2014 & 2015
2) Target Date Fund Panel
3) Local Expert Professional Panel
4) "Reflections in the Mirror" - Participant Behavior Study
5) Evaluating the Reasonableness of Plan Fee
The 2014 Southern California Fiduciary Summit is the fourteenth stop on the Retirement Plan Roadshow and will be held at the Santa Ana Country Club on Tuesday, September 23 from 11:30 AM to 3:00 PM (Lunch will be served). The Southern California Fiduciary Summit is approved for 3 CPE/CPA credits and 3 HRCI general credits. Seating is limited and local plan sponsors will receive priority registration. Additional details and registration information can be found by visiting: http://xgrowthsolutions.com/retirement-events/2014/09/2014-southern-california-fiduciary-summit/.
About Precept Advisory Group
Founded in October of 1987, Precept began as a privately owned employee benefits & retirement plan consulting firm, based in Irvine, CA. In November 2011, BB&T, a publically traded financial holding company (ranked 12th in the U.S.) acquired Precept and its subsidiaries, including Precept Advisory Group (PAG), a registered investment advisory firm with the SEC. As nationally recognized retirement plan consulting experts, Precept Advisory Group has been providing independent and unbiased advice to fiduciaries and plan committees to enhance retirement plan outcomes for participants and plan sponsors since 1991. Our strengths include: fiduciary stewardship & education, risk mitigation, investment analysis & recommendations, optimal plan design execution, vendor management and plan benchmarking as well as compliance support & oversight. PAG currently supports 55+ mid to large employers, ranging in plan assets from $3M in the emerging markets sector to $500M in the large plan arena. Our firm's current assets under management exceeds $3.0B as of 6/30/2014, representing over 45,000+ plan participants in several sectors including technology, bio-med, aerospace & defense, energy and manufacturing.
About Xponential Growth Solutions
Xponential Growth Solutions (XGS) has helped thousands of retirement plan sponsors/employers reduce fiduciary risk, identify plan upgrades, and make better decisions that positively impact millions of participants. We are independent of investment professionals, third party administrators, fund companies, and recordkeepers. With our expertise in regulations and industry best practices, XGS is able to provide unbiased education, recommendations, and referrals. Our transparent information and solutions equip employers with the tools and confidence to maximize the value of the plan for both the employee and employer.