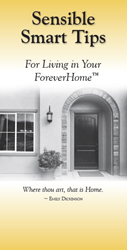 "This is a topic that impacts all of us, whether we are care-givers, loving family members, or seniors ourselves," said Wanda Gozdz.
Miami Beach, FL (PRWEB) August 20, 2014
As America's population ages, adults in all stages of life will be impacted. Adults in their thirties and forties who are care-givers, middle age adults planning for their senior years and seniors preparing for their twilight years should all determine how to create a comfortable living environment for the future. That is Wanda Gozdz's mission. Wanda, president and founder of Golden Age Living, LLC, will offer insights and ideas on this topic in complimentary seminars at the Miami Home Design and Remodeling Show, which takes place August 29-September 2 at the Miami Beach Convention Center.
Wanda Gozdz is an author, residential interior designer and Certified Aging in Place (CAPS) Specialist. Her company provides curb to backyard assessments of a residence and provides solutions so that an older adult can live an independent and self-sufficient lifestyle. In her seminars, "Sensible Smart Tips For Living In Your Forever Home™," Wanda will provide practical solutions to create a safe, self-reliant and barrier-free environment. "This is a topic that impacts all of us, whether we are care-givers, loving family members, or seniors ourselves," said Wanda Gozdz. "Identifying barriers in our homes for safe living as we age is the first step. Changing and adapting living environments to support stress-free living is the ultimate goal." Her seminars will take place Saturday, August 30th, at 2:00 pm & 4:00 pm, and Sunday, August 31st, at 3:00 pm. In addition to her seminars, Ms. Gozdz will have copies of her book "Sensible Smart Tips For Living In Your Forever Home™" available for purchase and will be on site to talk with show guests.
Forty million people in the United States are 65 years of age or older, and this number is projected to almost double by 2026. The number of nursing homes and assisted living facilities will be outpaced by the aging population, and the high costs associated with long term care will stretch family and Medicaid budgets beyond capacity. If, however, senior citizens have the opportunity to comfortably and safely stay in their homes as they age for as long as possible, the looming crisis on both a personal level and societal level would be diminished. That is the goal for many professionals, lawmakers and caregivers who see the burgeoning future demand for long term care facilities and aim to provide home-based solutions. "With a professional assessment, existing homes can be safely transitioned into a comfortable living space for seniors or adults with increasing physical restrictions and other physical limitations. Staying at home is comfort," said Gozdz. "Providing a safe, personal environment is a gift we all want as we age."
The Home Design and Remodeling Show presents a comprehensive collection of international home improvement, upscale interior design and home renovations for indoors and out. Personalized, one-on-one interaction with industry experts is a mainstay of the Home Show. In addition, complimentary seminars by experts are featured. Home Show Management Corp, producer of the Home Show, has been producing quality events in South Florida for over forty years.
Wanda is available for media interviews. She can be reached at 954-401-5948.
Show hours: Friday (8/29) 6:00 pm-10:30 p.m.; Saturday & Sunday (8/30-8/31) noon-10:30 p.m.; Monday, Labor Day (9/1) noon-7:30 pm; Tuesday (9/2) 6:00 pm -10:30 pm
Show Info: http://www.homeshows.net or 305-667-9299. For more information on Wanda Gozdz and Golden Age Living, visit http://www.goldenageliving.com.
Social Media: http://www.facebook.com/FloridaHomeShow and Twitter @FLHomeShows.