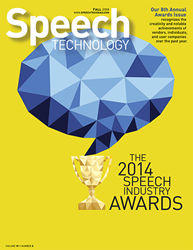 We are able to move faster with CallMiner because we can make informed decisions based on good data.
Boston, MA (PRWEB) August 19, 2014
CallMiner (http://www.callminer.com), the leader in speech and voice of the customer analytics solutions for contact centers, announced today that two of its customers—Nautilus and State Collection Service—have won Implementation Awards from Speech Technology Magazine. Both companies were recognized for their ability to use speech analytics to improve agent productivity, customer service, and the bottom line.
Nautilus, a home fitness equipment manufacturer, used CallMiner's Eureka speech analytics platform to gain valuable insight on all of its customer contacts, leading to cost savings and process improvements. Some of the operational efficiencies include: a 17 percent reduction in talk time, resulting in a 196 percent increase in the number of calls answered within 20 seconds and a 36 percent reduction in call abandonment. "We could have found other ways to achieve these ROI efficiencies, [but] it would have taken much more time and resources to accomplish," said Jennifer Buffaloe, Senior Manager of Customer Support at Nautilus. "We are able to move faster with CallMiner because we can make informed decisions based on good data."
State Collection Service, an accounts receivables management firm specializing in medical collections, also turned to CallMiner Eureka to analyze 100% of the 40,000 inbound and outbound calls handled by its agents every day. By automating the agent performance feedback process, Eureka helped recoup more than 4,000 employee hours per year. First-call resolution has increased by more than 23 percent, agent quality assurance scores increased by 14 percent, and the amount of silence on calls decreased by 12 percent. "You can get a lot more information when you monitor all calls versus just five a month," says Tracy Dudek, Vice President of Operations at State Collection Service. "We have so much more data now. And it's not anecdotal, it's all factual. CallMiner gives us a good picture of the total call and everything that happened on the line."
"We congratulate both Nautilus and State Collection Service on their awards," said Terry Leahy, CEO at CallMiner. "Having our customers recognized for their accomplishments is continued validation that our solution is able to deliver results and ROI in a timely manner. Both companies realize how important insights from speech analytics are to their operations and customer service and have taken all the right steps to ensure success. The recognition is well deserved."
CallMiner will be sharing the Nautilus and State Collection Service case studies during a webinar on September 4, 2014. Click here for more details and to register.
About CallMiner
CallMiner helps businesses and organizations improve contact center performance and gather key business intelligence by automating their ability to listen to every customer interaction. CallMiner's Eureka product portfolio automates the overwhelming process of monitoring information from 100% of interactions – calls/audio, chat, email, surveys and social – to uncover consistent and reliable information about agent performance. Real time business intelligence can be leveraged by enterprises to dramatically improve customer service and sales, reduce the cost of service delivery, mitigate risk, and identify areas for process and product improvements. For more information, please contact CallMiner at (781) 547-5666, or visit http://www.callminer.com.