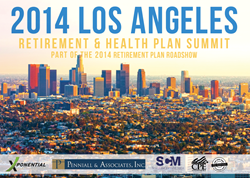 It is critical for plan sponsors to evaluate their retirement and healthcare plans to ensure they are complying with new regulations and monitoring costs while maintaining competitive benefits for employees
Pasadena, CA (PRWEB) September 02, 2014
The 2014 Los Angeles Retirement and Health Plan Summit will be held at the Langham Huntington in Pasadena, CA on September 18th. Local 401(k), 403(b), and retirement plan leaders are gathering to discuss improvements and adjustments to all employee retirement plans. Hosts, Penniall & Associates and Xponential Growth Solutions, have put together an all-star line-up of keynote speakers to discuss private exchanges, fiduciary regulations, healthcare benefits, and D.C. Legal & International capital market updates.
Hosting the discussion at the 2014 Los Angeles Retirement and Health Plan Summit will be Penniall & Associates' Managing Directors, Shannon Main and Kathleen Branconier. Expressing the timeliness of the summit, Shannon stresses, "With healthcare reform upon us and an increased number of DOL investigators, it is critical for plan sponsors to evaluate their retirement and healthcare plans to ensure they are complying with new regulations and monitoring costs while maintaining competitive benefits for employees." Guests will be made up of a diverse group of HR, Finance, and Business Professionals. The Industry Expert Speakers include:
Hunt Turner - Vice President at Sullivan Curtis Monroe
Stephani Victor - USA Paralympic Gold Medalist
Thomas Rowley - Executive Director – Invesco
Jason Roberts - CEO at Pension Resource Institute
See additional details on the event page: http://xgrowthsolutions.com/retirement-events/2014/09/2014-los-angeles-retirement-health-plan-summit/
The Los Angeles Retirement and Health Plan Summit will be held at The Langham Huntington, Pasadena, 1401 South Oak Knoll Avenue Pasadena, CA 91106 on September 18th, 2014 from 11:30 AM to 3:00 PM (lunch served). The summit is approved for 3 hours of CPA/CPE, and 3 hours of HRCI/SPHR credit. Seating is limited and priority registration with a waived $150 registration fee is available for qualified plan sponsors.
About Penniall & Associates
Penniall & Associates, Inc. is a full service Registered Investment Advisory firm committed to helping clients with their long-term financial success. We currently manage over $1 billion in assets and have 4 office locations; Pasadena, South Bay, Newport Beach and Scottsdale. We utilize a disciplined approach to help clients stay true to the process and achieve success during difficult markets, economic and legislative conditions. The process is defined to organize, formalize, implement and monitor the key components of the employer sponsored retirement plan. We believe that fiduciary compliance, appropriate investment selection, creative plan design and employee education are the cornerstones of a successful retirement plan. By leveraging our background and our firm's experience in wealth management, we can provide investment advice to both our retirement plan sponsors and their participants. Therefore, we are a single resource for comprehensive wealth management and retirement plans and we do that by fully and completely serving our clients' financial needs.
Securities offered through United Planners Financial Services of America, a Limited Parternship Member FINRA/SIPC Investment Advisory Services offered through Penniall & Associates, Inc. a Registered Investment Advisor Penniall & Associates, Inc. are independent of United Planners.
About Xponential Growth Solutions
Xponential Growth Solutions (XGS) unites 401(k), 403(b) and retirement plan sponsors with elite resources and exclusive connections. Through research, fiduciary summits, and industry expertise, they help the nation's retirement plan sponsors, fiduciaries, and trustees evaluate their plan and navigate the retirement plan industry. Working to help America reach their retirement goals one retirement plan at a time, XGS also founded the Retirement Plan Roadshow - a national series of fiduciary educational summits dedicated to human resources, finance and business professionals in charge of America's 401(k), 403(b), and retirement plans.