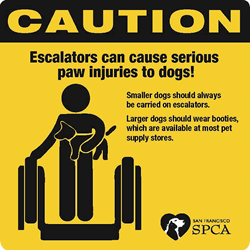 San Francisco, CA (PRWEB) August 19, 2014
The San Francisco SPCA is advising pet guardians to take precautions to prevent their animals from being injured on escalators. The two SF SPCA hospitals, in the Mission and Pacific Heights, regularly receive emergency visits for escalator-related injuries. Dogs' paws can get caught between the moving escalator steps, leading to severe wounds.
"Every month we see far too many escalator-related emergencies," said Dr. Jennifer Scarlett, SF SPCA co-president. "Most of these cases involve small dogs riding escalators at BART stations or shopping malls, but dogs of all sizes are vulnerable. These injuries are very painful and expensive to treat, but the good news is that they're completely preventable."
Dogs who suffer from escalator-related injuries will often lose parts of their toes, and will sometimes need amputation to facilitate healing.
To prevent these injuries, the SF SPCA is advising all pet guardians to carry their dogs on escalators, or use the stairs or elevator. Alternatively, booties should be used to protect your dog's paws. Dog booties can be purchased online or at most pet supply stores.
If your dog is injured, see a veterinarian immediately. The SF SPCA's Pacific Heights campus is open 24/7 for emergency visits. To learn more, visit sfspca.org/hospital.
About the San Francisco SPCA
The San Francisco SPCA is an independent, community-supported, non-profit animal welfare organization dedicated to saving, protecting and providing immediate care for cats and dogs who are homeless, ill or in need of an advocate. The SF SPCA also works long-term to educate the community, reduce the number of unwanted kittens and puppies through spaying and neutering, and improve the quality of life for animals and their human companions. The organization does not receive government funding and is not affiliated with any national organization.
Support the SF SPCA by adopting, donating, volunteering and becoming a client of our state-of-the-art veterinary hospitals. In addition to our campus in the Mission neighborhood, as a result of our recent merger with Pets Unlimited we now have a second campus in Pacific Heights.
The SF SPCA offers volunteer opportunities to care for shelter dogs and cats, conduct adoption counseling, assist clients and veterinary staff, provide foster care, help with the Community Cats Program, and enrich the lives of people in the community through animal-assisted therapy.
For more information about San Francisco pet adoption, call the San Francisco SPCA at (415) 522-3500 or visit sfspca.org.