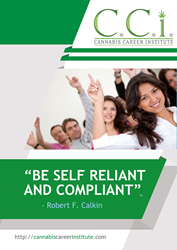 Understanding how a cannabis business operates in a manner that is compliant and follows state laws and guidelines helps businesses become - and remain - successful.
Baltimore, MD (PRWEB) August 18, 2014
Cannabis Education and Business Training is coming to Baltimore, Maryland and Philadelphia, Pennsylvania this weekend, offering entrepreneurs the chance to become educated in the Marijuana Industry. In order to start making plans for business within the states as potential legislation changes, entrepreneurs wanting to join this newly emerging industry need guidance and education.
In Maryland, Medical Marijuana rulings, have become a long and detailed process, (Maryland Senate Bill 364) and determination of legal status, criminal status and actual Business possibilities for the Cannabis Industry have not yet been fully legislated.
Current legislation has provided, since April 2014, a decriminalization of small amounts of marijuana. Still, the potential for entrepreneurs exist within the state of Maryland as the proposed legislation starts to make it's way, according to MPP who outlines all pending legislation.(http://www.cqstatetrack.com/texis/viewrpt/main.html?event=49d66172c3)
Pennsylvania has long been one of the toughest states on Medical Marijuana and with the volatility of the political realm, medical mmarijuana has become the center focus for many groups, political agendas, activists, petition movements within the state of Pennsylvania.
Even with a large group of U.S. States coming online with medical marijuana approvals, the word marijuana, whether for medical or recreational use, has long been considered a word that people shied away from discussing, especially when talking about it as the new "up and coming industry".
With Colorado Government posting large revenue increases from taxes on Denver's own governmental website (Colorado The Official State Web Portal, Colorado Marijuana Tax Data, 2014-March, colorado.gov) entrepreneurs from across the nation have been rethinking what it means to be in the cannabis industry.
Cannabis Career Institute will be arriving in Baltimore, Maryland on Saturday, August 23rd and the class will be held at the Westin BWI from 9:00 a.m. to 7:00 p.m. The Philadelphia, Pennsylvania class will be held on Sunday, August 24th, also from 9:00 a.m. to 7:00 p.m. and at the Hilton Airport Hotel. Both classes provide a one hour lunch break to students and extremely detailed business information, networking opportunities and legal documentation that will help students understand future cannabis business operations.
Cannabis Career Institute (CCI) has been training students across the United States since 2009 on compliance, standards, requirements and educational information on getting into the cannabis industry. Robert Calkin formed CCI after teaching at Oaksterdam University and operating Green Dot Guy, his own California-based medical marijuana delivery service. Calkin discovered a need for information and education as he began consulting with marijuana companies from across the nation.
Students coming to the Baltimore and Philadelphia classes, wanting to learn how to open up their own dispensary or delivery service, will learn what skills they will need to have, what exactly will need to be done and how to start building their infrastructure for their own marijuana businesses - before actually starting up a business in this new industry. Edibles operations and grow operations are also covered in the full day class.
CCI classes prepare students for getting ahead in the industry, whether they are able to do it within their own states, or whether they need to move to a state where medical marijuana has been legislated for business.
Building a strong infrastructure of a marijuana business, before legislation happens, allows entrepreneurs and companies to stay ahead of the game, while following political leanings in the cannabis industry. Being ahead of that game, by understanding how the industry works, allows businesses to be able to start operations the moment the all-clear signal is given from state legislators and this is the detailed information Cannabis Career Institute imparts on students who attend the all day class seminars.
Taught by top professionals in the industry, Cannabis Career Institute classes provide clear understanding of Federal Law, State Law and operational needs to open up a Medical Marijuana Dispensary, Medical Marijuana Delivery Service, Marijuana Grow Operation or even a Marijuana Edibles Operation whether in their own state or within states that have already passed legislation.
Entrepreneurs from around the nation, come to the class seminars to understand exactly what is needed to get involved in the industry and are taught highly detailed information that would take months, if not years to compile. From understanding compliance to getting to know other members in the industry to network with, students from across the United States have been successfully introduced into the necessary steps required to get started and be involved. Cannabis Career Institute has been given glowing reports by impartial media critics who have studied the classroom structure and curriculum. (WFTV, Greg Warmouth, Videos, Central Florida Spotlight, March 2014, http://www.wftv.com/videos/news/cannabis-career-institute-central-florida/vCTKKr)
The House of Representatives passed an amendment last week, effectively restricting the DEA from doing raids on medical marijuana business operations, in states where medical marijuana has been made legal, (Steve Benen, Rachel Maddow Show, House votes to restrict DEA marijuana raids, June 30, 2014, MSNBC). This new amendment is giving hope to marijuana businesses as they try to grow through education and compliance, while following state laws and regulations.
Cannabis Career Institute provides highly detailed information, giving entrepreneurs and students the opportunity to understand the cannabis business in easy to understand segments. From Dispensary management and bud tending to actual grow operation details, the instructors provide information and allow students to interact directly by asking further questions. Students can find out more information on the Cannabis Career Institute Events page and can enroll directly from the website. A large variety of educational information is provided by CCI instructors and networking opportunities are available. Even more important, at many of the CCI classes, Investors join the seminar to make introductions with those who are interested in partnering up.
CCI also has upcoming Educational Training Classes in:
Marijuana Business Training in Sacramento, California on August 23rd
Marijuana Business Training in Denver, Colorado on August 23rd
Marijuana Business Training in Knoxville, Tennessee on August 23rd
Marijuana Business Training in Chattanooga, Tennessee on August 23rd
Marijuana Business Training in Cheyenne, Wyoming on August 24th
Marijuana Business Training in Fort Lauderdale, Florida on August 24th
Marijuana Business Training in Miami, FL on August 24th
Marijuana Business Training in Columbia, South Carolina on August 30th
Marijuana Business Training in Charleston, South Carolina on August 31st
CCI is Media friendly. Instructors are available for interview via class location or ahead of time by phone or other media alternatives. We advise reporters and journalists that because of current legal status and the perception of Cannabis and some areas of the United States, students may not wish to be filmed or photographed.
Members of the Media are welcome to connect with Cannabis Career Institute by Friday morning if they wish to be scheduled an interview. Reporters using cameras or video are asked to refrain from capturing identifiable images of students without student permission. Journalists are welcome to record conversations with instructors or students who provide permission, but not of the classroom education. Please send an email to Meki Cox of Cannabis Career Institute at meki@cannabiscareerinstitute.com to schedule - by Friday or call 1-800-753-2240 for more information.