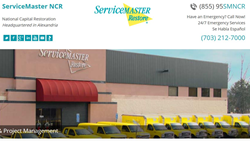 Alexandria, VA (PRWEB) August 19, 2014
ServiceMaster NCR is an independent business licensed by ServiceMaster Restore and headquartered in Alexandria, VA that provides disaster restoration and specialty cleaning services to the Washington, DC metro area and they have recently launched a redesigned custom website - http://www.servicemaster-ncr.com. This new website contains information about each of the different services they offer as well as a list of CE classes for insurance agents and potential clients in the area. Their website was built with user friendly design and navigation so that their clients can easily find their main service and information pages and it has a responsive design that allows for easy reading and navigation across devices including computers, tablets, and mobile phones. This website is a significant improvement over the previous website and was built as an extension of their Internet marketing plan with Proceed Innovative to help increase the amount of important information available to their potential customers and clients on the internet.
The ServiceMaster NCR website was redesigned and launched to provide a convenient hub of information about their services and CE classes. The website is easy to navigate with convenient drop down menus for each of their service areas including disaster restoration, specialty cleaning, and large losses. The Media section includes a blog and updates on their community involvement and special events and potential clients can find information about the ServiceMaster NCR staff and their certifications. ServiceMaster NCR offers a range of CE classes that insurance agents can register for directly on the website. In addition to their custom website, ServiceMaster NCR also offers a mobile app for iPhones and Android devices. The mobile app provides a very convenient interface to mobile users that allows them to easily access important information and directly contact ServiceMaster NCR for emergency assistance.
About ServiceMaster NCR
ServiceMaster National Capital Restoration (NCR) is headquartered in Alexandria, VA and has served the Washington, DC metro area since 1986. They are one of the largest ServiceMaster businesses in the United States and one of the first responders to the Pentagon on 9/11. In 2014, ServiceMaster NCR became a ServiceMaster Recovery Management (SRM) command and control center helping to coordinate national/international large losses. Their technicians and managers are IICRC certified and dedicated to providing quality restoration services using the best cleaning methods and equipment available in the industry.
For more information visit http://www.servicemaster-ncr.com or call ServiceMaster NCR at (703) 212-7000.