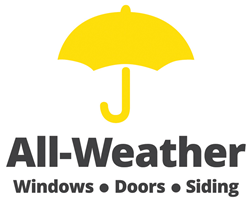 The new website and fresh branding has really helped us to focus on energy savings," said Doug Bennett, General Manager. "With fresh leads helping to supplement our strong repeat customer base, we're looking forward to a great year.
Kansas City, MO (PRWEB) August 19, 2014
Since 1985, All-Weather has been providing quality Andersen windows, doors and siding to Kansas City residents. When it came time to update their website, they looked to this long history and excellent reputation as the building blocks of their new brand. After a decade on hiatus, they brought back the familiar yellow umbrella, updated it and seamlessly incorporated it with a new slogan: Energy Savings Under One Umbrella.
They employed the services of MarketingXchange, a digital marketing agency in Kansas City who specializes in website design for lead generation. With their help, the fresh design coupled with search engine optimization has already increased traffic. The new site has doubled traffic for July when compared with July of 2013 traffic statistics.
To learn more about All-Weather, visit http://www.allweatherkc.com.
Media Contact: Kelsey Huber (913) 649-4040 x 102
Or Doug Bennett (913) 262-4380