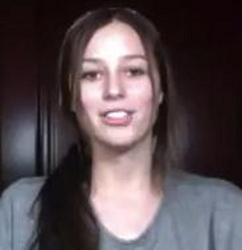 (PRWEB) August 18, 2014
In today's easy beginner acoustic guitar lesson, Zollars teaches the song Tennis Court by Lorde which is very easy due to it only having two parts: verse and chorus. Paige starts off by going over the guitar chords that are used in the verse as follows: G, Am (A minor) and F, all of which are played in the open position. Next, Zollars demonstrates the strumming pattern as follows: down, down, up, up, down, up, counted as 1, 2, &, 3, 4, &, for one whole measure for the G and Am and two whole measures for the F. Next, Paige goes over the chords for the chorus as follows: G, C, Am, G, F, C, G and Am. Zollars demonstrates the strumming pattern as being the same as the verse with one whole measure for each chord. Paige continues this easy guitar lesson by performing the song so you can hear how it should sound. Complete guitar chord charts as well as guitar TAB's are available for this beginner acoustic guitar lesson at SongTabs.com.
Ella Marija Lani Yelich-O'Connor, aka Lorde, is a singer songwriter from Takapuna New Zealand. She began her music career at the age of 13 when she signed with Universal Music Group. Her debut EP "The Love Club" was an international crossover success that awarded her two Grammy Awards and was followed by her first full length album "Pure Heroin" in 2013.
Paige Zollars
Has been a singer and songwriter for the last 6 years and performs at fairs and coffee shops in her area. She has an original song "Broken" available on ITunes and works for a company called KlabLab where she makes educational songs for the classroom.
About SongTabs.com
SongTabs.com is a great online resource for learning to easily play your favorite songs on the guitar. With several great instructors and a constant growing catalog of songs,everyone can learn to play their favorite songs.