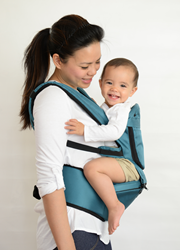 "With HIPSTER™, parents can hold their baby in 9 different ways, while minimizing sore backs and achy arms!"
Los Angeles, CA (PRWEB) August 18, 2014
Los Angeles, CA/ Lugano, Switzerland— In late July, Swiss startup MiaMily launched HIPSTER™ hip baby carrier on Kickstarter.com, with the target goal of achieving $25,000 worth of pledges and backers in 30 days. Three weeks later, HIPSTER™ makes a splash with parents around the world, making Kickstarter's Staff Pick in less than 24 hours upon launch, hitting its target in a record 6 days. Just last week, MiaMily surpassed its NEW stretch goal of $50,000 and will be giving away "HIPSTER™ onesies" to all its backers in addition to all the other goodies offered in the Kickstarter campaign. With 2 days left, HIPSTER™ has made 245% of its target (at $61,000+ at press time) and shows up as one of the top 3 projects amongst 9000+ other Design Kickstarter projects.
Frustrated with current baby carriers available, Cecilia Tsai and Alessandro Cereda, Co-Founders of MiaMily, wanted to combine assets of different baby carriers into one product that suits their needs as parents, thus coming up with HIPSTER™. Looking to help fund their first production, the co-founders and their marketing team decided that Kickstarter was the best platform to launch, which proved to be a fruitful decision, but humbly admit they did not expect to hit success in such a short amount of time.
"I am ecstatic that HIPSTER™ can now be available to many other parents! Holding a baby takes a toll on your body, and from pinching a nerve on my back, I personally know that there is no worse feeling than not being able to hold your own crying baby. With HIPSTER™, parents can hold their baby in 9 different ways, while minimizing sore backs and achy arms!" explains Co-Founder Cecilia Tsai, mother of 1-year-old Mia Cereda. After the Kickstarter campaign ends, the co-founders also wish to launch "Change the World, One Baby at a Time" campaign, donating one can of formula milk for every HIPSTER™ sold.
With a secondary stretch goal of $125,000 which will allow backers to add 2 additional HIPSTER™ colors, parents and friends who are looking for great gifts can still get a huge discount on this popular baby carrier until August 20th on Kickstarter. HIPSTER™ is set to launch officially at http://www.miamily.com in September 2014.
About MiaMily: As parents in Switzerland raising baby Mia, Cecilia Tsai and Alessandro Cereda are always searching for ways to simplify their lives and find ways to minimize any unnecessary frustrations that comes with parenting. Using their first hand experience as parents, they aim to bring high-end, quality, ergonomic products, to provide smart solutions for smart babies. For more information, please visit http://www.miamily.com.