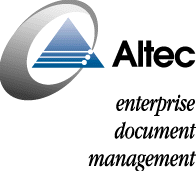 Laguna Hills, CA (PRWEB) August 19, 2014
Altec Products, Inc., a leader in enterprise document management and workflow solutions, announced today its participation in the 2014 Epicor Prophet 21 Lake Erie User Group Summer Conference. The two-day accounting event will take place in downtown Cleveland, Ohio at the House of Blues from August 20 - 21, 2014, and will equip Epicor Prophet 21 users to make the most of their enterprise resource planning (ERP) solution.
Lydia Brocato, business process consultant for Epicor Prophet 21, will lead the conference and provide networking receptions and informational sessions so that attendees can share ideas with other users and gain advice from Epicor Prophet 21 experts. Altec will present an educational session on August 20th from 3:00 - 4:00 p.m. that will demonstrate how integrated document management solution doc-link interfaces with Epicor Prophet 21 to automate filing, simplify document retrieval, and increase control of files. With doc-link, organizations can reduce paper consumption and increase workplace efficiencies, saving money and time.
A provider of document management solutions to Epicor users for more than 25 years, Altec has designed doc-link to accommodate growth and change, leveraging opportunities like this event to listen to and speak with Epicor end users. Altec Sales Director Laura Lechien will be attending the conference and sharing her own expertise: "doc-link helps to enhance the functionality and value of the Epicor Prophet 21 ERP solution. This conference gives Altec a rich opportunity to connect with Epicor users to resolve business inefficiencies and streamline workflow."
For more information about the 2014 Epicor Prophet 21 Lake Erie User Group Summer Conference and to register, visit http://www.p21leug.com.