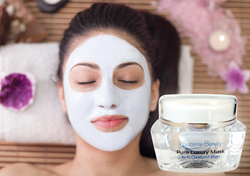 The ingredients of the Collagen Antioxidant Mask are very rich and spa-quality.
St. Petersburg, FL (PRWEB) August 20, 2014
What gives skin an edge and is that "something extra" in skin care? What can soften skin, replenish and nourish it while lightly exfoliating? The Collagen Antioxidant Mask from Sublime Beauty®.
"Client after client raves about how their skin feels and looks after using the collagen mask," says Kathy Heshelow, founder of Sublime Beauty®."The ingredients are very rich and spa-quality."
The special mask is easy to use. Simply smooth it over cleansed skin of the face and neck, and let it sit for 10 minutes. Wipe with a damp cloth and then rinse with water. That's it!
"I like to do deep breathing and listen to spa music when I apply the mask," says Heshelow, who uses it each weekend.
Some of the key ingredients include:
** French White Clay, known for centuries to be a gentle exfoliate. It pulls out toxins and grime from the skin.
** Safflower Oil is very well known as a skin softener
** Cucumber is soothing and nourishing
** Hydrolyzed Collagen adds collagen to the skin (but remember, to boost collagen long-term the skin must be made to produce it)
** Vitamin E is a great antioxidant for the skin
** Aloe is the plant of immortality and does wonders for skin quality
** Chamomille also soothes skin
The spa-quality mask is available at Sublime Beauty® Shop (with free standard shipping and a VIP Club) or on Amazon.
ABOUT: Sublime Beauty® is a quality skincare company that focuses on products to "Age Younger". Ingredients help to boost collagen, hydrate, relax wrinkles and improve skin. A niche includes healthy Skin Brushes. The company webstore offers free standard shipping and a VIP Club. Sign up for Secret Sales on the site. Products also available on Amazon.