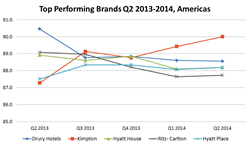 'This award and recognition belongs to all 8,600 Kimpton employees who make it their mission to take great care of our guests,' said Mike Depatie, president and CEO of Kimpton Hotels & Restaurants
San Francisco, California (PRWEB) August 20, 2014
Many hotel brands are devoted to providing their guests with a great experience. However, according to the Market Metrix Hospitality Index (MMHI), there are five hotel brands that outpace the competition. Maintaining the top scores for the past four consecutive quarters, Kimpton Hotels, Drury Hotels, Hyatt House, the Ritz-Carlton, and Hyatt Place consistently set the standard for customer satisfaction.
With a customer satisfaction score of 90, Kimpton achieved the highest mark for the most recent period, and continued to improve their score for the third quarter in a row. Their desire to engage guests on a deeper, more continuous level is supported by recent initiatives to strengthen the entire guest experience including a new loyalty program, 'Kimpton Karma', and 'Life is Suite' website redesign.
"This award and recognition belongs to all 8,600 Kimpton employees who make it their mission to take great care of our guests," said Mike Depatie, president and CEO of Kimpton Hotels & Restaurants. "Their level of selflessness and empathy for our guests make them unique and special in any industry. I'm really pleased that our guests truly feel the love when staying at our properties. It makes doing what we love to do all the more gratifying."
MMHI data is collected from more than 40,000 travelers around the globe. Guests provide over 200 details about their most recent hotel and casino experiences. The MMHI customer satisfaction score is based on the average rating of 14 product and service questions that are highly correlated with guest loyalty and recommendations. Shown is a summary of the top performers during the second quarter of 2014, globally and by region. For more results from the Market Metrix Hospitality Index, visit http://www.marketmetrix.com.
About Market Metrix
Market Metrix, a Clarabridge company, is the leading provider of customer and employee feedback solutions for hospitality companies around the globe. By connecting feedback with revenue, Market Metrix helps hospitality businesses make smart investment decisions that both improve the guest experience and produce higher profits. Real-time feedback and action management drive timely service recovery, turning potential negative reviews into online raves. And no other feedback program offers the detailed global benchmarking of MMHI, allowing clients to spot gaps and opportunities in the context of key competitors. Market Metrix is essential to more than 14,000 businesses in over 70 countries, and has been helping forward-thinking executives profit from feedback since 1996. For more information, visit http://www.marketmetrix.com.
About Clarabridge
Clarabridge helps hundreds of the world's leading brands understand and improve their customer experience. Using advanced text analytics, Clarabridge transforms survey, social, voice and all other forms of customer feedback into intelligence used to empower confident, decisive action across the business. The result: happier customers. For more information, visit http://www.clarabridge.com.
Contact:
Mike Waite
mike(dot)waite(at)clarabridge(dot)com
+1 415 526 4646
###