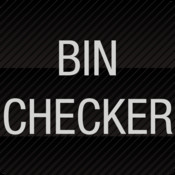 The BIN Checker is an important business tool for companies that are engaged in eCommerce and do business through credit cards.
(PRWEB) August 22, 2014
BIN Checker is proud to announce the launch of its new database, which allows users to verify the bank identification number (BIN) of any credit or debit card before authorizing any online transaction.
The new BIN Checker database will help ensure the security of online transactions. This app will allow users to check the Bank Identification Number (BIN) of online credit and debit card transactions to ensure that they are legitimate, helping users avoid the ever-increasing threat of online fraud and scams.
In today's electronic world, many financial transactions are performed online. This inevitably leads to an increased risk of credit card scams and fraud. However, specific preventive measures can be taken to ensure the security of banking and credit transactions online.
The Bank Identification Number
The BIN is typically the first six digits of the 16-digit number on any credit or debit card. The BIN can be used to identify the card number's country of origin, the bank which issued the card, and the brand of credit card, such as Visa, MasterCard, or American Express. Pertinent information such as the city, telephone number, and microchip availability of the credit card is also stored in the BIN.
The BIN can also determine the type of card being used, such as credit, debit, prepaid, charge, or secured card. Furthermore, the BIN can even determine any subcategory of the credit card in question, including business or electronic.
Some business owners tend to complete more purchases with their business cards than with their personal cards. As an active business owner performing numerous transactions daily, it is advisable to use the BIN Checker database to verify business transactions securely without the threat of fraud or scams.
The Advantages of BIN Checker
A BIN can be customized to growing business needs; integrate any credit card's BIN Checker to specific business demands or requirements. Restrictions can be set to block individual businesses, countries, or banks.
BINs can also be used to create surcharges for other types of credit cards, such as those issued outside the credit card holder's country; it is common for an extra fee to be imposed on non-resident credit cards to balance the exchange rate.
BIN Checker is a user-friendly database that will ensure that each check is up-to-date with the necessary information to perform an accurate check on every card, for every transaction.
For more information, or to use BIN Checker, go to http://binchecker.com or download the BIN Checker app at https://itunes.apple.com/app/bin-checker/id907218284?mt=8.