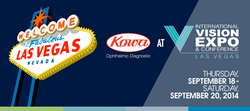 Torrance, CA (PRWEB) August 20, 2014
Kowa Optimed returns after a short hiatus to the Vision Expo West show to debut the new SL-17 portable slit lamp.
The SL-17 has been upgraded to a 20,000 lux white LED source controlled by an illuminated thumb wheel for easy adjustments even in darkened examination rooms. The SL-17 uses commercially available AAA rechargeable and dry cell batteries, which is an improvement over the previous SL-15 design requiring batteries designed specifically for the device. The new Sl-17 base design increased stability, providing a safer place to charge and store the SL-17 when not in use. The SL-17 is also compatible with an optional camera adapter with a diffuser and yellow filter, which allows documentation of the anterior segment through image and video capture. Other improvements to the Sl-17 design include adjustable slit lengths and a new non-slip ergonomic grip to provide maximum comfort for the operator during lengthy examinations. The SL-17 will be available in white and three other colors – pink, green, and blue – for pediatric use.
In addition to introducing this new device, Kowa will offer special pricing to Vision Expo West attendees for the following products: the SL-15 Handheld Portable Slit Lamp, the Kowa AP-7000 Automated Perimeter, the Kowa Nonmyd α-DIII Nonmydriatic Retinal Camera, the Kowa Nonmyd 7 Nonmydriatic Retinal Camera, and the Nonmyd WX3D Simultaneous Stereoscopic Photography Retinal Camera. These prices are only available to attendees for the duration of the expo.
For pricing and more information on each of these products, please visit: http://www.kowa-usa.com/Ophthalmic-Diagnostics/Article.php?Article=Kowa-at-Vision-Expo-East-located-in-Las-Vegas-Nevada-Thursday-September-18th-Saturday-September-20th-2014. Kowa will be located at booth MS13043.
About Kowa Optimed, Inc.:
Kowa Optimed, Inc. is a U.S. subsidiary of a global multi-faceted company offering a broad range of products with technologically advanced medical products and software solutions for ophthalmology, optometry, clinics, hospitals, military facilities, universities, and research, as well as private doctors. In addition, Kowa Optimed offers a full product offering of binoculars, spotting scopes, factory automation and machine vision (CCTV), and industrial lenses.
Kowa Optimed attributes its record of success to its ability to introduce products with key features, innovation, and functions that meet specific user needs and help to make workflow more productive. Kowa Optimed is constantly expanding its focus into new fields where Kowa Optimed can make effective use of its core technologies. Kowa is allocating more resources to niche markets, such as eye care, LED Lighting, and specialty lenses, where greater accuracy and reliability are required. Kowa Optimed is on the frontier of technology, living up to the expectations and trust our customers have in Kowa as a global brand.
If you would like more information about this topic, please contact Aletha Vassilakis at (310) 327-1913 or email at customerservice(at)kowa(dot)com.