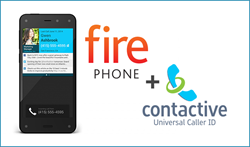 Contactive provides Fire Phone users with valuable information on unknown numbers in the moment that matters most, right when the phone rings.
New York, NY (PRWEB) August 19, 2014
Contactive, a big data company that focuses on mobile real-time identity, today launches its Amazon Fire Phone-compatible app. The app syncs with telephone numbers and gives users full profiles of whoever is calling, even if the number is not in their address book. The Amazon App Store currently ranks Contactive second among its top ten communication apps.
"We're incredibly excited to be featured among Amazon's top communications apps for the new Fire Phone," said Iñaki Berenguer, Contactive CEO. "Users will no doubt find it enhances the functionality of the Fire Phone, as both the phone's features and Contactive work together to provide users with any information they might need in real-time and on the go."
Launched last year, Contactive's free caller ID mobile app is changing the way people decide which calls to answer and which calls to send to voicemail. It provides users with valuable information on unknown numbers in the moment that matters most, right when the phone rings. Combined with Amazon's Firefly feature, which gives users access to real-time information on any items they want to purchase right as they see them, Contactive's enhanced visual profiles for incoming callers leaves no piece of information unknown.
According to Contactive, it takes the average person seven seconds to pick up a call. Contactive gives users precious seconds to decide whether to take a call or personalize the way they pick up their phones and engage in a conversation. With the Fire Phone, though, users can also see important updates before and after a call even when not navigating within the app itself. "On the Fire Phone, users will see widgets on their homescreen that show them social media updates from their contacts and details about their call history," explains Berenguer. "I'm excited to see our features integrating so well with the Fire Phone itself -- it supports our belief in the importance of functional simplicity and productivity."
To start enjoying enriched caller ID profiles on incoming calls on your Amazon Fire Phone, download the Contactive app in the Amazon App Store here:
http://www.amazon.com/Contactive-Free-Caller-ID/dp/B00MJ0NG32.
About Contactive
Based out of SoHo in New York City, Contactive (http://contactive.com/) helps people see the most complete profile for anyone they interact with during the day, right when it matters – at the time the telephone rings. With Contactive, people make communications more personal and efficient.
Contactive was established in 2013 and launched its Android app in beta in April 2013 to showcase the power of its big data platform applied to online identities, uniting the functionality of the mobile phone with the knowledge of the internet. It aggregates and reorganizes unstructured information from social networks, publicly available sources, corporate operational data, and Contactive's Global Directory to display caller profiles. The Android app and the Chrome app are available for free.
Press Contact:
John-David Brown | Online Communities Manager
john-david(at)contactive(dot)com | (209) 986-7777