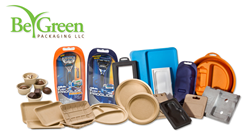 Santa Barbara, CA (PRWEB) August 20, 2014
Be Green Packaging is proud to announce that it has entered into a strategic alliance with Shanghai Broadway Packaging and Insulations Materials Co., Ltd., a leading foam plastics manufacturer as its key molded fiber packaging supplier and partner.
SHBW is a subsidiary of Broadway Industrial Group Limited, a Singapore based company founded in 1969 and listed on the stock exchange of Singapore. SHBW is one of the largest molded packaging producers in Asia and a key supplier to all the major OEM's and to many of the world's largest electronics manufacturers. The alliance with Be Green Packaging will allow Broadway to extend its current range of pulp packaging to its existing customer base. Be Green Packaging is known worldwide for its advanced plant fiber packaging technology such as the ability to produce zero-degree draft angles and other precision customization options such as embossing, printing and colorization.
"We are pleased to be working with Broadway and grateful for our close relationship with Yong Inn Nam and K K Lee, who have been instrumental in getting this alliance formed," stated Robert Richman, Co-CEO at Be Green. "Both Be Green and Broadway are leaders in their respective industries and this alliance is going to be a win-win situation for our customers and the planet."
Co-CEO Ron Blitzer went on to comment that, "This relationship is going to rapidly expand the reach of both companies and allow us to meet the ever increasing demand for sustainable, environmentally-friendly plant fiber packaging that the world's leading, innovative companies are demanding."
Be Green Packaging is best known for it's iconic Cradle to CradleCM certified food service trays and containers, which can be found at Whole Foods Markets across the US, Canada and UK. Over the past few years the company has expanded its roster of customers to include some of the world's largest consumer product brands including companies such as Proctor & Gamble, Gillette, Google and Jawbone, among others. In early 2014, a majority stake in the company was acquired by the Riverside Group, a global private equity firm, which allowed Be Green to rapidly expand its manufacturing capacity including the opening of the first plant fiber manufacturing facility in the United States in South Carolina.
Be Green's products are made from a proprietary blend of rapidly renewable plant fibers such as bamboo, bulrush, wheat straw and bagasse, all of which have been certified compostable and recyclable (where facilities exist).
Be Green Packaging
Be Green Packaging LLC. manufactures and distributes Cradle to Cradle Certifiedcm, tree-free, and biodegradable packaging for the food service and consumer markets. The company designs and engineers products made from annually renewable plant fibers that are safe for people and healthy for the planet. Be Green is currently in the process of opening the first plant fiber manufacturing facility in the US in Jasper County, South Carolina. The plant will be operated according to Cradle to CradleCM principles. http://www.begreenpackaging.com
Broadway Industrial Group
Established since 1969, Broadway Industrial Group is a global leader in the manufacture of precision-machined components and foam plastic solutions. The Group was listed on the Singapore Stock Exchange Main Board in 1994.
Through its-wholly owned subsidiary Compart Asia, the Group is one of the top manufacturers of actuator arms and related assembled parts for the global hard disk drive industry. Leveraging on its expertise in precision machining, Compart is also expanding into the manufacture of precision components for the electronics, semiconductor, automotive and other industries.
With over 40 years of track record, Broadway is also a leading provider of eco-friendly foam solutions for packaging, insulation, automotive, medical and other applications. With its emphasis on innovation, quality and reliability, Broadway's foam plastic division has developed a strong pool of global customers in the automotive, consumer electronics, construction, shipbuilding and other emerging industries. Headquartered in Singapore, Broadway comprises of over 14 manufacturing facilities in China, Thailand and America. http://www.bigl.com.cn
The Riverside Company
The Riverside Company is a global private equity firm focused on acquiring growing businesses valued at up to $250 million (€200 million in Europe). Since its founding in 1988, Riverside has invested in more than 330 transactions. The firm's international portfolio includes more than 70 companies. http://www.riversidecompany.com