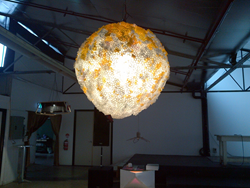 SAN JOSE, California (PRWEB) August 27, 2014
Xicato, enablers of the Internet of Lights, was a proud participant and product partner of last week's annual LightCycle competition, produced for the fourth time by Electrolight. There were 35 entries to the competition, primarily from architects and interior designers but also from a half-dozen universities. Each participant was given a Xicato LED module along with reflectors and accessories and challenged to use their creativity and design a light fixture that embodied the principles of environmental sustainability, Judging took place at the Second Story studios in Melbourne where all the entries are displayed.
Regarding the winning luminaire from Aspect Studio, Ian McDougall, judge and director of ARM Architecture said, "It worked on two levels: a conventional spherical and patterned translucent pendant, but on close viewing an incredibly detailed, honeycombed structure with an air of the organic. Intriguing."
Electrolight's founding director Paul Beale said, "This has to be one of the best community lighting events that we have ever organized. The creativity of the entrants and the excellent equipment from Xicato was second to none".
This year's event was held in association with Melbourne Indesign Australia's go-to event for design lovers which showcases the best in new products and talent in architecture and design. To learn more about the event visit, http://www.electrolight.com.au/blog/2014/08/best-lightcycle-ever/.
About Xicato
Xicato is enabling the Internet of Lights and empowering architects, designers and building managers to create beautiful, smart spaces people love to live and work in. We design and build intelligent LED modules that integrate the best quality and most efficient light with software, sensors and connectivity. With Xicato, spaces and buildings can be simply managed from anywhere, using any device. For further information visit: http://www.xicato.com.
Xicato's headquarters and manufacturing is based in Silicon Valley and the company has offices in China, Japan, Europe and throughout the U.S. Founded in 2007, Xicato's focus on high quality light and reliability has won praise from the lighting community and end-users alike and was recently recognized as "Best Industrial Partner" by the Professional Lighting Design Conference. Installations using Xicato range from retail and museums to restaurants and hotels. A gallery of installations can be found here.