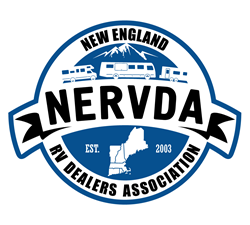 Camping provides families and friends an opportunity to disconnect from our wired world and enjoy conversations, games and a relaxing environment to socialize in a safe neighborhood.
Hudson, MA (PRWEB) August 19, 2014
The enjoyment of families roasting S'mores around a roaring campfire has always been a great campground tradition. Camping provides families and friends an opportunity to disconnect from our wired world and enjoy conversations, games and a relaxing environment to socialize in a safe neighborhood setting that is quickly disappearing from the American landscape.
NERVDA, The New England RV Dealers Association, is launching a new event that will be held in the main parking lot of Six Flags New England starting Thursday, August 21, and running through Sunday, August 24. There will be a separate admission for the Summer RV Sale & Show or visitors can buy a combination ticket that will provide them access to the RV show and the theme and water park located on the Connecticut River, just south of Springfield, MA and the Connecticut border.
Fifteen of the association's dealers will be displaying everything from pop-up folding campers to luxurious diesel pusher motorhomes. "There is an RV to meet everyone's budget and size that will provide them with a home away from home to be enjoyed in the great outdoors at a local New England campground or traveling around the country visiting national parks, historical monuments or vacation paradises. Today's modern RVs have all the amenities enjoyed at home and include large kitchens, bathrooms and even sleeping arrangements for up to ten people," said Bob Zagami, Executive Director of NERVDA.
The Summer RV Sale & Show will be open to the public Thursday and Friday, 10:30AM to 7:00PM, Saturday from 10:00AM to 7:00PM and Sunday from 10:00AM until the show closes at 6:00PM.
The sale and show will offer outstanding year-end pricing on 2014 models that dealers want to sell before the winter arrives and special pricing on new 2015 models that will be shown in New England for the very first time. There will also be some pristine pre-owned trailers and motorhomes at unbelievable closeout pricing.
Tickets for the event are available online at http://www.sixflags.com/newengland with the special Promo Code RVSALE2014. A single day ticket for just the Summer RV Sale & Show is only $15.00 and that includes parking, or the RV/Park combo ticket, which also includes parking, is available for only $54.99. Tickets can also be purchased at the park.
The association has been promoting the show on their consumer website, http://www.nervda.com, and an active Facebook page that communicates with RV enthusiasts several times each day, http://www.facebook.com/rvinginnewengland.
"Families want more quality time together and we believe this event will draw outdoor enthusiasts from all over New England and New York to see the new RVs and enjoy a great day as our park that now features the new SkyScreamer that opened this year - the tallest ride of its kind on the planet!" said David Rosenthal, Director of Communications for Six Flags New England.
About the New England RV Dealers Association
The New England RV Dealers Association (NERVDA) represents a select group of RV dealers in the six New England states that provide quality RVs that are supported with a full-service business operation ready to meet the needs of all RV enthusiasts who want to enjoy the RV lifestyle.
Our dealers are committed to providing an enjoyable buying experience and service after the sale that will allow RVers to enjoy their pop-up, truck camper, travel trailer, fifth-wheel, toy hauler, motorhome, park model or destination camper for many years.
About Six Flags New England
Six Flags New England is the Thrill Capital of New England and we've taken that reputation to the next level with the introduction of the New England SkyScreamer. The world record breaking New England SkyScreamer takes riders 40 stories in the air as they experience beautiful views of New England. This only adds to Six Flags already impressive lineup of rides including: Cyclone, Flashback, Pandemonium, Mind Eraser, Batman the Dark Knight, Goliath and Bizarro. Rated as one of the top steel coasters on the planet, Bizarro offers thrills second to none with two tunnels, fly through S-shields and a 220-foot drop.