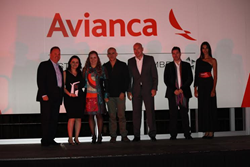 New York (PRWEB) August 19, 2014
Travelong, a Fareportal company, announced today that it was recognized by Avianca Airlines Club Honores program for the third consecutive year. To be admitted as a Club Honores member, Travelong generated excellent results for Avianca in terms of profitability, market share and sales volume. These performance indicators are measured annually by Avianca, and awards were given this year at Antigua, Guatemala where Travelong joined other top performing U.S. travel partners.
"We are proud of the relationship between Travelong and Avianca," said Rolando Damas, managing director of North America and Asia at Avianca. "We have been happy to honor their outstanding results in revenue and market share for the past three years, and we look forward to continuing to work together in the years to come."
Through parent technology company Fareportal and its consumer travel brand CheapOair, Travelong works closely with the airlines to promote their products and services. The company's continued success has been acknowledged by awards from numerous airlines including Qatar Airlines, LAN/TAM Airlines, SriLankan Airlines, Korean Air, China Airlines and Malaysia Airlines, as well as inclusion in Travel Weekly's esteemed Power List.
About Fareportal: Fareportal is a travel technology company that powers hybrid (online/traditional) travel agencies. Utilizing its innovative technology and company owned and operated contact centers, Fareportal has forged strong industry partnerships with over 450 airlines, 150,000 hotels and 100s of car rental companies to serve millions of customers every year. With a portfolio of consumer travel brands including CheapOair and OneTravel, Fareportal's airline partners benefit from access to a broad customer base that books high-yield international travel and add-on ancillaries at a rate higher than the industry average. To learn more, visit http://www.Fareportal.com.