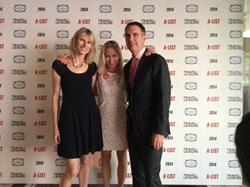 We are thrilled to be included in the prestigious T+L list for the 4th year in a row for our expertise in Southeast Asia.
(PRWEB) August 19, 2014
Remote Lands, the world's leading ultra-luxe Asia travel designer, is basking in glory this week after being honoured by both prestigious travel magazine Travel+Leisure and leading international luxury travel network Virtuoso.
Travel+Leisure recognized Remote Lands' expertise in putting together ultra-luxe bespoke Asia holidays by including the company's co-founder and CEO Catherine Heald in its annual A-List of the world's top travel specialists and advisors for Southeast Asia for the fourth year running. According to the magazine's News Editor Amy Farley, A-Listers are chosen for their ability to offer "insider insights, unparalleled access, the ability to create a seamless itinerary, and value."
Catherine in particular is recognized for her in-depth knowledge of off-the-beaten-track Asia experiences as well as her support of Asia-based NGOs and their efforts in cultural preservation.
Remote Lands was also honoured by Virtuoso, the world's leading luxury travel network, during its annual Travel Week in Las Vegas. The company was nominated alongside equally prestigious peers for the "Best Active & Specialty Provider 2014" award, for its extensive and unique range of adventure activities and unique experiences in 28 countries across Asia.
"We are thrilled to be included in the prestigious T+L list for the 4th year in a row for our expertise in Southeast Asia," Heald told us. "We are also delighted to have been nominated by the Virtuoso members for our expertise in adventurous and off the beaten path destinations such as Tibet, Bhutan and Nepal and remote corners of Myanmar, Indonesia, Laos and the Philippines where few foreigners venture."
The full Travel+Leisure A-List can be viewed on the magazine's website. To find out more about Virtuoso, follow this link. To find out more about Remote Lands, visit their website or email them on info(at)remotelands(dot)com.
About Remote Lands, Inc.
Remote Lands, Inc. creates highly personalized, ultra-luxe holidays in Asia, optionally by private jet or yacht. Based in New York and Bangkok, they specialize in extraordinary experiences that are difficult to arrange and require privileged access to important people and exclusive events, drawing upon their relationships with remarkable people around Asia. They distinguish themselves with their unparalleled service, creative itineraries and extreme attention to detail.
Remote Lands has been featured in The New York Times, The Wall Street Journal, Departures, Travel + Leisure, Condé Nast Traveler, Town & Country, the BBC, Fox Business News, Financial Times, National Geographic Traveler, W, Newsweek, Forbes, BusinessWeek and more.