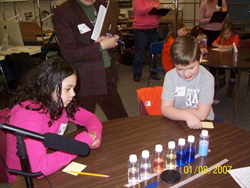 Salt Lake City, UT (PRWEB) August 19, 2014
With back to school shopping in full swing, moms and dads are working hard to fill the supply list even when money is tight. They are not the only ones feeling the pinch this fall; educators are also struggling to find resources for students, especially in low-income and minority-majority school districts. In some schools, this struggle is a crucible where creativity flourishes. Educators are finding inspiration in global challenges and piloting projects that address essential science and technology skills to prepare these students to be successful inside and outside of the classroom. From teaching chemistry, biology, and physics through the all-encompassing lens of astronomy, to students designing their very own apps, it's a very exciting time to return to school - especially if your school is benefitting from the $138,435.00 investment McCarthey Dressman Education Foundation disbursed in educational grants and scholarships this year.
Sarah J. McCarthey, President of the Foundation remarked, "Once again, we find outstanding projects with real-world significance and a collaborative focus. Our newly funded projects continue to help students achieve Common Core Standards, but also go beyond the standards to develop innovative contributions to their communities."
In 2014-15, the Foundation has funded four new Academic Enrichment Grants at middle schools serving minority and economically disadvantaged students; three Teacher Development grants at a middle school and elementary schools with similar demographics; and three student teacher scholarships.
"Academic Enrichment Grants integrate hands-on learning with a focus on real issues and problems," noted McCarthey. "What is amazing is how collaborative efforts bring students from different backgrounds together while improving academic performance." One educator at CentroNia in Washington, DC has proposed a program using theatre and role-playing to teach scientific processes in their project Theatrical Journey. Using drama to teach science may not be a new idea, but since Bill Nye the Science Guy went off the air in 1998, there has been lack of replacements to engage students in learning science while also having fun.
The STARS (South Texas Astronomical Research for Students) project at George West High School, a school with a large Hispanic population aims to use the practical application of astronomy to educate students on the more esoteric concepts in physics, biology, and chemistry. This holistic approach to teaching science is a very exciting way to teach an appreciation for how precious and fragile life on this planet really is.
Including Theatrical Journey and STARS, Academic Enrichment Grant projects are funded around the country in care of the following educators:
Elizabeth Bruce (CentroNia, Washington, DC); Janice Levelhagen (ChickTech/Helensview Alternative High School Portland, OR); Cheri Tajchman (Chapman High School, Chapman, KS); and Kenneth Zeigler (George West High School, George West, TX).
Enrichment programs are very important but the Foundation also funds proposals that help educators benefit receive mentorship and resources to improve their practice. Teacher Development Grants provide funding for training and support needed for enrichment in the classroom. Through projects that support teacher learning communities, "teachers of different levels of experience, expertise and specialization collaborate to significantly impact the quality of teaching and learning," commented McCarthey.
The Cultivating Culturally Responsive Teachers project coming out of Derby Middle School in Derby, KS is an example of this teamwork. Working in a district with significant numbers of English Language Learner (ELL) students, the project prepares teachers to teach to the whole child. Teachers will gather information on students' sociocultural, linguistic, academic and cognitive abilities which will allow them to learn about students' strengths and challenges in a holistic way.
At Stone Scholastic Academy in Chicago, educators are ending the traditional model of teacher isolation in their classrooms. Teachers love to exchange ideas, brainstorm solutions, and provide support to each other. Still, it's hard to find time to collaborate on new approaches and find the space to build strong working relationships. Creating a Collaborative Co-Teaching Culture provides time for a committed co-teaching team to observe their peers, and use student feedback to assess their impact and improve their instruction.
The full list of Teacher Development Grant recipients includes:
Kelly Kitterman (Derby Middle School, Derby, KS); Seol Moon (Stone Scholastic Academy, Chicago, IL); and Scott Storm (Harvest Collegiate Highschool, New York, NY).
Pre-service educators are also supported by the McCarthey Dressman Education Foundation. This year's student teaching scholarship recipients include:
Hilda Shepard (Stephen F. Austin University, Kileen, TX); Kari Fontanilla (UCSC, Santa Cruz, CA); and Justin Silva (UCSC, Santa Cruz, CA).
Including the grants and scholarships listed above, the McCarthey Dressman Education Foundation funded 22 enrichment efforts for the 2014-2015 school year. The application deadline is April 15 of each year for proposals with significant potential to enrich the educational experiences for youth.
The mission of McCarthey Dressman Education Foundation (mccartheydressman.org) is to serve as a catalyst in maximizing the skills and creativity of educators at the K-12 levels and in cultivating pioneering approaches to teaching that result in dynamic student learning. The Foundation sponsors proposals that enhance student learning and educational quality, paying particular attention to those that best serve the at-risk and under-funded.