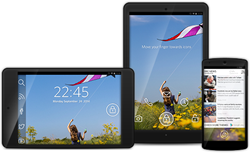 We trust that this partnership with Celltick will enable us to deliver an unprecedented customer experience to our customers while generating a new revenue stream
San Francisco, Calif. (PRWEB) August 19, 2014
Celltick, a global leader in mobile initiated commerce, today announced its partnership with Multilaser, a leader in Android devices selling more than 700,000 devices annually, to launch an intelligent custom interface based on Start. Celltick will create a custom start screen on Multilaser's phones and tablets in Brazil. Start is a next generation Android interface that allows users to personalize their device and get everything they care about when they wake up their phone.
Start provides users with easy access to their favorite and frequently used applications, social network feeds, music services, messaging and other utilities from the start screen. Users can personalize their device, making it easier to navigate. Start's back end recommendation engine learns and adapts the start screen according to users' behavior.
Start provides device manufacturers like Multilaser with an effective platform to differentiate their devices and maintain relationships with their customers beyond the point of sale, to encourage brand loyalty and enable lifetime monetization.
"Multilaser is committed to introducing an innovative approach in its products that will make a positive impact in our customers' lives, making it much more enjoyable," said Reinaldo Paleari, Electronic Products Manager of Multilaser. "We trust that this partnership with Celltick will enable us to deliver an unprecedented customer experience to our customers while generating a new revenue stream."
"We are very happy to partner with a market leader like Multilaser as they continue their pursuit of introducing innovative customer-oriented services in Brazil," said Ronen Daniel, CEO of Celltick. "We are confident that we will enable users to easily access personalized information and services on their devices."
The growing Start ecosystem includes hundreds of themes and plug-ins that are available for download on Google Play. In 2013, Celltick powered billions of mobile-initiated commerce transactions for virtual and physical goods enabling more than three billion transactions across 25 countries.
####
About Multilaser
The Multilaser is a Brazilian company with a successful record of accomplishment and one of the most innovative players in the national electronics and computer supplies segment. The company, which began operations in 1987, has an extensive portfolio, divided into 12 rows: Audio, Photo and Cinema, Sports, Games, Health Care, Multikids, Tablets, Computer Accessories, Automotive, Phones, Smartphones & Bags, Backpacks and handbags.
Leader in the markets in which it operates, has a portfolio of over 2,000 items, and a workforce with 2,700 people - divided between its headquarters in São Paulo and its factory in the city of Extrema (MG). Recently created the Multikids, company dedicated to the production of electronic items and toys for children. With this new unit, Multilaser projected to be one of the three largest companies in the industry until 2016.
Brand products are marketed in more than 30 000 points of sale throughout Brazil, through an extensive network that includes department stores, supermarkets and department stores and computer. For more information, visit http://www.multilaser.com.br.
About Celltick
Celltick is a global leader in mobile initiated commerce. Celltick's Start is a next generation personalized intelligent interface for Android devices. Celltick is unique in creating and managing mass market mobile marketing solutions for mobile operators, large media companies, device manufacturers and large brands. Celltick enables its partners to engage and monetize their users on the mobile. The company drives billions of transactions annually across more than 110 million active consumers across its different mobile platforms in over 25 countries. A rapidly growing company, Celltick has subsidiaries in Europe, Asia, South America and the U.S. For more information, visit http://www.celltick.com.
Press Contacts:
Celltick
Ramgopal Vidyanand/Shirit Flider
press(at)celltick(dot)com