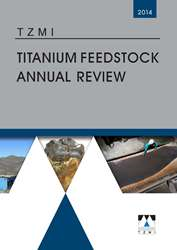 Expanded edition with new data and analysis
(PRWEB) August 20, 2014
TZ Minerals International (TZMI) is pleased to announce the release of the 2014 edition of the Titanium Metal Annual Review.
Each year TZMI releases a suite of four reports providing a comprehensive, in depth and independent analysis of each of the sectors in the TiO2 value chain. These reports are the Titanium Feedstock Annual Review, TiO2 Pigment Annual Review, Zircon Annual Review and Titanium Metal Annual Review.
The Titanium Metal Annual Review 2014 provides a review of the global titanium metal sector during 2013, encompassing its multiple segments.
This review contains a presentation of the titanium metal industry using data sourced by TZMI, combined with our analysis and interpretation of that data as well as a market outlook.
Titanium Metal Annual Review covers significant developments in the industry, changes to the supply and demand balance during the year, manufacture of titanium products plus an examination of end-use markets. Also included is detailed global cross-border trade plus a discussion of titanium metal production costs and an in depth examination of emerging titanium technologies.
The titanium metal industry is one of the most opaque and fragmented markets evaluated by TZMI. The world's top 11 titanium feedstock producers provide approximately 75% of annual global output to the entire supply chain, with only approximately 6% of this actually used in titanium metal manufacture.
Seven countries currently produce titanium sponge, which accounts for the vast majority of new titanium units used to create final titanium products. Close to 90% of manufactured titanium sponge is used in the manufacture of titanium and titanium alloy products for four key end-markets: commercial aerospace, industrial applications, defence, and emerging applications. This year, the Titanium Metal Annual Review provides an in depth analysis each of these key end-markets.
Global demand for titanium metal dropped 2% in 2014 to 145,000 tonnes. Aerospace and industrial sectors together accounted for 85% of global titanium metal consumption in 2013. The aerospace sector gained 5% market share year-on-year on the back of increased construction rates of high titanium content aircraft. While the use of titanium in airframes is increasing, overall aircraft engines still account for more than half of the titanium used in the commercial aerospace market. As new engines increase in diameter to deliver more power, better fuel efficiency and lower noise levels, the latter stages of the compression operation become hotter and the use of titanium is challenged by temperature limitations.
Defence uses for titanium accounted for 9% of global demand in 2013. TZMI estimates that demand for titanium products in the global defence sector was up 1.4% over 2012 levels. Titanium metal is used in combat aircraft, helicopters and military transporters. Titanium is also used as lightweight armour in military vehicles such as tanks and troop carriers, in field guns and small arms to reduce weight while maintaining strength, and in various missile components.
Beyond the aerospace, industrial and defence sectors, titanium is also used in a broad range of emerging applications including medical and dental, architectural, and in consumer goods such as sporting equipment. In 2013, this broad collective accounted for the balance of global demand.
The vast majority of titanium enters the global system via the manufacture of new titanium sponge. Global titanium sponge production is concentrated in Russia, Japan and China. Together, sponge supply from these countries accounted for 81% of total sponge production in 2013. Total installed global capacity of titanium sponge in 2013 is estimated at 323,300 tonnes, up 2.1% compared to the level in 2012. Global average capacity utilisation was just under 60% in 2013.
TZMI estimates that output of wrought titanium metal will increase by 26% by 2015. China is forecast to account for 47% of the output growth.
More than 60 profiles of major participants in the titanium metal sector are contained in the Appendix.
The Titanium Metal Annual Review is an essential resource for titanium metal information and data. This report is suitable for anyone wanting to understand this evolving segment and maintain an up to date perspective of all elements of the industry, including:

Titanium metal producers
End-consumers
Mineral sands industry participants
New or potential entrants to the industry
Financial industry (fund managers, hedge funds, investors and potential investors)
Orders for Titanium Metal Annual Review 2014 are now being taken. For more information please visit http://www.tzmi.com or call +61 8 9359 6000.
FURTHER INFORMATION
Tracey Kelly – Marketing Manager
TZ Minerals International Pty Ltd
E: tracey(dot)kelly(at)tzmi(dot)com
P: +61 8 9359 6000
http://www.tzmi.com