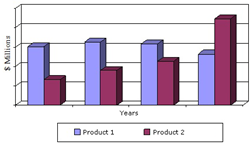 Global Market for Multiple Sclerosis Disease-Modifying Products to Reach Nearly $14.2 Billion by 2018
(PRWEB) August 19, 2014
BCC Research (http://www.bccresearch.com) reveals in its new report, MULTIPLE SCLEROSIS (MS) DRUGS AND BIOLOGICS: TECHNOLOGIES AND GLOBAL MARKETS, the global market for multiple sclerosis (MS) disease-modifying products reached nearly $10.9 billion in 2013. This is estimated to grow to nearly $14.2 billion by 2018 with a compound annual growth rate (CAGR) of 5.4% from 2013 through 2018.
MS is an autoimmune disease characterized by the body's own immune system attacking itself and causing spots of demyelination (plaques) in the brain and spinal cord. Today, there are eight disease-modifying therapies for MS approved throughout the world. Disease-modifying agents to treat MS are currently one of the largest classes of pharmaceutical products by sales in the U.S. and throughout the world.
The total worldwide market for MS disease-modifying therapies is expected to reach a little over $14 billion by the end of 2018. With continued market penetration of new drugs and biologics into patients previously untreatable with the currently approved disease-modifying products and the slowing price increases of interferon therapies due to the entrance of new competition, the market for MS disease-modifying therapies is expected to grow from $4.4 billion in the U.S. in 2008 to $9.0 billion in 2018.
In the U.S. and EU around 90% of patients with MS are currently being treated with disease-modifying therapies. Hence, the U.S. will be the primary market for most soon-to-be introduced MS therapies. Europe follows close behind, but Japan also represents a large opportunity for a few particularly novel MS drug and biologic candidates.
"Five new disease-modifying therapies for MS are expected to enter the market through the forecast period 2018," says BCC Research analyst Yogita Zutshi. "These four oral therapies on the market possess improved efficacy over existing therapies, an easier route of administration, an upgraded dosing schedule, enhanced tolerability, and the ability to be used in combination with existing products."
MULTIPLE SCLEROSIS (MS) DRUGS AND BIOLOGICS: TECHNOLOGIES AND GLOBAL MARKETS provides a comprehensive analysis of the current status of the market for disease-modifying multiple sclerosis (MS) drugs, biologics and vaccines, and assesses their growth potential over a five-year period from 2013 through 2018. Special coverage has been given to small molecule drugs, therapeutic vaccines and other biologics targeting MS that are in Phase II or III clinical studies, or those with unique mechanisms of action in earlier stages of development. The report also identifies the leading MS treatments by formulation, by mechanism of action and by geographic location. Potential of some compounds that are being tested for other inflammatory or autoimmune disorders that could be potentially tested as a treatment for or used off-label for MS in the future are also included.
Editors and reporters who wish to speak with the analyst should contact Steven Cumming at steven.cumming(at)bccresearch(dot)com.
About BCC Research
BCC Research publishes market research reports that make organizations worldwide more profitable with intelligence that drives smart business decisions. These reports cover today's major industrial and technology sectors, including emerging markets. For more than 40 years we've helped customers identify new market opportunities with accurate and reliable data and insight, including market sizing, forecasting, industry overviews, and identification of significant trends and key competitors. We partner with analysts who are experts in specific areas of industry and technology, providing unbiased measurements and assessments of global markets. Our clients include the top companies in industries around the world as well as universities, business schools, start-ups, consulting firms and investment companies. BCC Research is a unit of Eli Research LLC. Visit our website at http://www.bccresearch.com. Contact us: (+1) 781-489-7301 (U.S. Eastern time), or email information(at)bccresearch(dot)com.
Data and analysis extracted from this press release must be accompanied by a statement identifying BCC Research LLC, 49-2 Walnut Park, Wellesley, MA 02481, Telephone: (+1) 781-489-7301; Email: editor(at)bccresearch(dot)com as the source and publisher. Thank you.