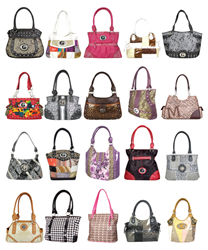 (PRWEB) August 21, 2014
Purse Obsession, a premier wholesale handbags provider with a renowned online store, has announced a site-wide sale of their fashion handbags and wallets that are designer inspired by many famous top brands. The demand for designer inspired handbags has been growing exponentially as fashionistas are becoming increasingly budget minded - hence providing quality fashion handbags without extravagant designer price tags has been the primary focus of Purse Obsession.
Their online store is very comprehensive and displays some of the trendiest handbags at extremely competitive prices with an additional price match guarantee. Their website includes detailed photos of handbags and wallets and a list of details for each product, aiding guests to shop for exactly what they're looking for and making the consumer experience effortless and enjoyable. With their state of the art delivery system, Purse Obsession's products are available online for both domestic buyers in the US and international buyers residing in Canada.
Customers and resellers will be very pleased with the different variety of wholesale handbags that they can find through the website of this reputed wholesale handbags company. Their catalog of handbags is inclusive of hobos, messengers, satchels, evening bags, shoulder bags, signature inspired, and tote handbags. They also have an exclusive collection of wallets ranging from fashion wallets to checkbook wallets. Purse Obsession is known to maintain the highest quality in manufacturing standards and their products are created with innovative and chic designs. The best thing about their online sale is that the offer is also valid on select newly released products. The company spokesperson shared, "We are very excited about this sale. The massive discount that we are currently offering can easily help resllers and fashionistas save a ton on the purchase of high quality fashion handbags and wallets at amazing wholesale prices. Moreover, we are happy to divulge that we have a very comprehensive logistics system for timely and efficient delivery of our wholesale handbags to anywhere in the US and all US territories, as well as Canada."
A few promotional codes released to the public include:
"save10" - Save 10 dollars on a minimum order of 100. Maximum 2 use per customer. No Expiration.
"save20" - Save 20 dollars on a minimum order of 200. Maximum 2 use per customer. No Expiration.
Purse Obsession's CEO states, "Our specialty is allowing full customization of your wholesale order. Interested in purchasing 12 handbags mixed and matched with different models? Sure, we can do that! Comfort, style, design, and cost efficiency became a primary focus of our company after discovering that 90% of women could not find streamlined and cost-effective handbags that suited their lifestyle."
About Purse Obsession
Founded in 2006, Purse Obsession has carved itself a healthy niche in a highly competitive sector of the fashion industry within a very limited time. The company prides itself in providing the best for its customers through great attention to detail and quality customer service. This wholesale handbags company puts emphasis on both quality and craftsmanship while maintaining industry leading competitive prices. They also maintain one of the most highly rated return and exchange policies based on customer feedback. Shoppers looking for unique, appealing and affordable handbags and purses can reach their online shop at http://www.purse-obsession.com.