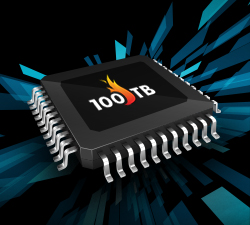 100 percent uptime has never been so important!
Salt Lake City, UT (PRWEB) August 20, 2014
100TB has always been known as a premium web hosting provider. This month, the company has remained true to form by announcing an upgrade to its server line-up.
To start with, 100TB has just launched its brand new range of Intel chipsets. The E3-1231v3 and E3-1271v3 have been added to 100TB's server line-up to boost CPU efficiency, speed and reliability.
"Businesses are becoming more and more sophisticated and are constantly demanding more resource for their workloads at the server level so they need the chipsets to match," says Tom Hancock, General Manager of 100TB.com. "These improved chipset specs will help with a range of business needs."
The new chipsets were developed by Intel as part of their new-wave E3-1200v3 product line, and they've been shown to lead to as much as six times better performance than their predecessor chipsets.
On top of this, 100TB have just added the Noction Intelligent Routing Platform to its network. This cutting edge platform offers a one-up on traditional border gateway protocols, which route data through Internet networks. Unlike BGPs, Noction is congnizant of network traffic and blackspots and works to route data through the best performing, and most cost-effective pathway.
"We constantly strive to give our customers the latest technology," says Tom. "They demand it, and the latest Intel chipset and Noction are what customers are demanding from us. 100 percent uptime has never been so important and world-class performance is becoming ever more important and that is what we're cementing with these advances."
Both existing and new customers can purchase the new services from 100tb.com.
About 100TB
The originator of 100TB dedicated servers, 100TB.com offers the latest in high power and high performance dedicated server hosting. Through their global network of on-demand data centers 100TB.com provides cloud and dedicated servers to clients across the globe and are committed to providing innovative and powerful hosting services. 100TB.com's technology is backed by the best-in-class network equipment, server hardware and world-class 24 x 7 support. 100TB.com is part of a global group of brands known as the UK2 Group. The UK2 Group has provided Web hosting, domain registration and Internet services to consumers and business alike since 1998. For more information about 100TB.com, visit http://www.100TB.com. Or find 100TB on twitter.