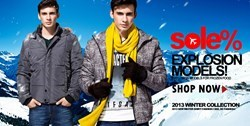 (PRWEB) August 21, 2014
Skmen.com, the popular online supplier of men's and women's clothes, has announced its new designs of mini party dresses online. Along with this, the company has also launched a big sale for these mini outfits. Now, all the fresh products are offered with great discounts and low shipping fees. All the company's clients can enjoy this special offer before August 31.
Skmen.com has more than 200 different kinds of cheap items online for sale. A large proportion of its clothes are selling well in the current market. In the company's online shop, customers can always save exorbitant amounts of money. There are over 800 items in the new collection; they come in various elegant styles and colours.
"We are proud to unveil the latest collection of mini party outfits for worldwide consumers. We have a team of delicate specialists; they keep paying close attention to customer needs and spending a lot of time studying fashion trends. Therefore, I think our new and old clients will like the fresh mini party dresses. Please note that these cheap items will not be accessible for a long time," the company's sales representative says.
It is worthy to mention that the company's garment experts take the utmost care in product quality, which ultimately leads to its great success.
About Skmen.com
Skmen.com, a reliable company founded in 2009, is one of the leading suppliers of men's and women's high quality clothes. It has more than 5000 customers from every part of the world; it hopes to help worldwide stylish ladies and gentlemen. Now, it is selling thousands of fashionable items online. For more detailed information about the company and its wonderful items, readers can visit http://www.skmen.com/.