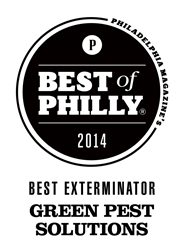 "This is a huge accomplishment for Green Pest Solutions.... We are graciously honored to received such an elite award and be looked at as the regions best pest control provider." - Matt Jesson, President
West Chester, PA (PRWEB) August 19, 2014
The editors at Philadelphia Magazine have named Green Pest Solutions the 2014 winner of the Best of Philly award for "Best Exterminator".
"It's quite an achievement to win and be a part of the Best of Philly series. This is a huge accomplishment for Green Pest Solutions and we can't accept the award without recognizing the importance of superior customer service. We are graciously honored to receive such an elite award, and be looked at as the region's best pest control provider," says Matt Jesson, President.
For forty-one years, "Best of Philly" has been the recognized mark of excellence in Philadelphia. Green Pest Solutions' designation signifies that in the estimation of Philadelphia Magazine's editors, Green Pest Solutions is the very best at what they do. Green Pest Solutions is proud to be included amongst the Philadelphia region's elite in 2014.
Philadelphia area consumers are used to seeing Best of Philly awards for restaurants, recreation centers and salons, so it's delightful for Green Pest Solutions' employees to have earned the esteemed regional recognition they deserve for keeping consumer's homes pest free.
Green Pest Solutions isn't new to these kind of accolades as they were recently named an Inc. 5000 Fastest Growing Company in August of 2014 for a third straight year—jumping up five hundred spots in that ranking. The company has also received an abundant amount of online feedback via Angie's List, Home Advisor, Yelp and Google sites. Green Pest Solutions has now attained over 750+ reviews on online reputation sites.
Green Lawn Fertilizing and Green Pest Solutions is an independent lawn and pest control company that was founded in 2004. Under the leadership of Matt Jesson, President and Owner of Green Lawn Fertilizing Green Pest Solutions, they are dedicated to becoming an industry leading company in the Lawn and Pest Industry. The company is currently ranked 9th in the country by Landscape Management Magazine, June 2013. In 2012, 2013, and 2014 the company has received the Inc. 5000 award for being recognized as one of the 5,000 fastest growing private companies in the America. Both companies are A-rated and accredited by the Better Business Bureau. They perform lawn fertilizing and integrated pest management service for residential and commercial clients. They are active members of PLANET, National Landscape Association and NPMA. In 2014, the company received the "Best of Philly" award – which has been the recognized mark of excellence in the Philadelphia tri-state area.