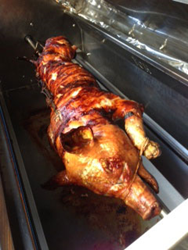 Rodney Kaufman and his team have always exceeded our expectations and have always been most accommodating and reassuring in making every event enjoyable and outstanding.
Toronto Ontario (PRWEB) August 20, 2014
Fall is coming, making way for heart and hearth-warming dishes like soup, stew and ragout. Time can be a hard thing to find, but time is what makes any dish shine. Try Impeccable Taste Catering CEO Rodney Kaufman's tips and time will be on your side!
Soon the air will be crisp and the leaves will be turning; fall is fast approaching – it is an excellent time to begin planning your next catered corporate event or boardroom catered meeting. Consider hearty stews and soups that will fill the stomach and satisfy the taste buds. Rodney Kaufman, the chief executive officer and executive chef of Impeccable Taste Catering in Toronto, provides some expert tips on creating the perfect warming dish for this fall.
"Thyme is a great herb to use, as it adds a woody flavour that goes very well with mushrooms and beef stews, as well as game stews or ragouts."
Thyme is a common herb and is available in dried form or fresh from your local grocery store. As always, fresh is better, as it provides more of a delicate flavour. Of course, other herbs can be used as well; the key to excellent cuisine is taste! Be sure to taste the dish throughout creation so that it can be seasoned properly.
Rodney also highly suggests searing any meat before it is added to the liquid.
"Browning any meats prior to adding to liquids, as carmelization of the natural sugars lends a lot of flavour to stews."
To sear or brown your meat, just add a small portion of olive oil or butter into a pan and put it at high heat. Once the pan is heated, place the meat on the pan and allow it to brown for a few moments then repeat on the other side of the cut.
Slow cooking of the stew, soup or ragout will allow for the use of a less expensive cut of meat and marry the flavors in the dish. Another important part of any stew is the stock.
"Great stocks are essential to a good stew. It is worth making your own beef, chicken or vegetable stock so you don't have to use the salt-laden pre-made bases."
The most important ingredient in a stock is time. The ingredients vary but have three basic parts – meat, vegetables, and spices. For example, you can mix chicken with celery and carrots, along with rosemary, parsley and thyme as spices. You should simmer the stock for about three to four hours.
No soup, stew or ragout is complete without a side of sour dough or crusty French bread. The bread is excellent for mopping up the last few drops of the delicious meal!
Impeccable Taste Catering offers catering services in Toronto and works with private individuals, companies in the Greater Toronto Area markets. Services include expert event planning and catering for casual lunches, seminars, conferences, product launches, release parties, corporate affairs and weddings, among other social events. Visit http://www.itcatering.ca for more details.