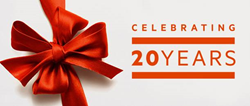 The BAF has been invaluable to brain aneurysm patients and scientists, physicians and investigators alike.
Hanover, MA (PRWEB) August 19, 2014
The Brain Aneurysm Foundation (BAF) proudly marks its 20th anniversary today—August 19, 2014. Over the course of the last 20 years, BAF rose to become the premier nonprofit organization solely dedicated to providing much needed and most critical awareness, education, support, and research funding in order to reduce the incidence of brain aneurysm ruptures.
The 20th Anniversary of this esteemed organization—the Brain Aneurysm Foundation—provides the great opportunity to support groundbreaking medical research as well as support for patients and families by contributing to the foundation's critical work.
"The BAF has been invaluable to brain aneurysm patients through patient support groups, in education through raising the public awareness about brain aneurysms, and through brain aneurysm research by providing grant funding to scientists and investigators," stated Dr. Brian L. Hoh, MD, FACS, FAHA, FAANS of the University of Florida.
Established in Boston, Massachusetts in 1994, the Brain Aneurysm Foundation first developed from a close relationship between patients and healthcare professionals at Massachusetts General Hospital who identified a void in and therefore the need for comprehensive information and support for brain aneurysm patients, their families, and the medical community.
Over the course of the past 20 years, the Brain Aneurysm Foundation has become an organization recognized and renowned for its work worldwide.
The Brain Aneurysm Foundation is supported and enhanced by:

Medical Advisory Board comprised of 40 of the most prominent doctors in this field all over the United States, Canada, Australia and New Zealand
60 established support groups facilitated by medical professionals
Hundreds of volunteers involved with raising awareness and raising funds for research, as well as to serve thousands of patients and their families throughout the U.S. and Canada
Now celebrating 20 years of service, the Brain Aneurysm Foundation was established in 1994 in Boston, Massachusetts with a mission to promote early detection of brain aneurysms by providing knowledge and raising awareness of the signs, symptoms and risk factors; work with the medical communities to provide support networks for patients and families; as well as to further research that will improve patient outcomes and save lives. For more information about the Brain Aneurysm Foundation, visit http://www.bafound.org.