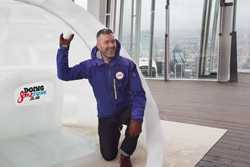 "The sleepover at The Shard has show-stopping potential for a 'how did you meet' anecdote for your grandchildren." says Matt Janes, Founder of Doingsomething.co.uk
London (PRWEB UK) 20 August 2014
On Saturday 13 September, DoingSomething.co.uk will host the first ever sleepover at The View from The Shard. This is the first time members of the public have been allowed overnight access to the Shard, offering a unique opportunity to camp-out at 800ft, and see dawn break over one of the greatest cities in the world.
Activity based dating site DoingSomething.co.uk aims to offer culturally adventurous Londoners exhilarating opportunities to meet other likeminded people – and a sleepover at The Shard has show-stopping potential for a 'how did you meet' anecdote to tell the grandchildren.
As the city lights dim and the stars begin to shine, singletons will receive a tour of the night sky from the Royal Observatory, who are situating a powerful telescope on the open-air viewing gallery. Armed with sleeping bags and comfortable clothes (sleeping mats are provided) participants will also enjoy an array of talks, films, acoustic performances, and even a midnight feast.
Interactive word games will break the ice, followed by a midnight feast from Pizza Pilgrims – delivering piping hot pizzas straight from their Soho ovens. Renowned presenters and literati will also be providing readings of acclaimed writers and poets from The London Literary Salon on the themes of sleep and darkness.
The legendary Sofar Sounds will be putting on an acoustic performance for daters to enjoy as the night's bill of entertainment and cultural experiences draws to a close.
The Glam Camping Company will provide sleeping mats for participants to bunk down on and all guests will be served a cup of cocoa, read bed-time stories and sung lullabies as they drift off, up in the clouds at 800ft. The sleepover comes to a close in the early morning when daters will be called from their sleeping bags to enjoy a view of the sun rising over London whilst treated to breakfast.
Tickets cost £99 per person, and only a limited 130 are available to book online: http://www.designmynight.com/london/whats-on/experience/sleepover. Tickets include a free 30 day membership for new sign-ups.