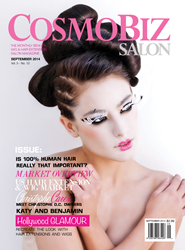 ComoBiz was created to expose this 'don't mention it' mindset and to be a platform to openly talk about "wigstensions" as a leading media outlet.
Rockville, MD (PRWEB) August 19, 2014
BBIM (Beauty Business Industry Monitor) research institute announces the launch of CosmoBiz Salon, a monthly publication for the salon and beauty industry. CosmoBiz Salon is an off-shoot of CosmoBiz by BBIM, a monthly beauty and hair magazine for retail beauty supply store owners.
The magazine features a variety of topics pertaining to hair salons and "wigstensions" (wigs and hair extensions). The focus will be on all things related to wigs, hair extensions, non-surgical hair replacement systems, hair loss treatments, and salon business. Each issue will feature in-depth market analysis, insight into wigstension companies and their products within the US and abroad, business tips and product reviews.
"In the past it was almost taboo to mention hair extensions or wigs out loud, but it is clearly changing. Consumers as well as cosmetologists like to talk about them and want to learn more about this industry," said Hannah Ku, editor-in-chief of CosmoBiz Salon. "The hair extension and wig market is growing every year, but no magazine is currently available to represent this growing community. ComoBiz was created to expose this 'don't mention it' mindset and to be a platform to openly talk about "wigstensions" as a leading media outlet."
The September issue features the controversial debate over synthetic vs. 100% human hair extensions, a hair extension and wig market overview, and national and international beauty industry analyses. Also, a guide on how to achieve celebrity hair styles using wigs and hair extensions and a variety of hair and skin product guides are provided.
Check out the first issue of CosmoBiz Salon at http://www.cosmobiz.com. You can also find it on the CosmoBiz Salon app, twitter and facebook: search Cosmobiz Salon.
About BBIM
BBIM is an organization that promotes research and learning within the beauty industry. BBIM was founded by a group of industry leaders and beauty organizations in 2009 with a mission to research and monitor the latest developments in the beauty industry. The research institute offers in-depth courses on becoming a wig specialist, a beauty consultant, as well as courses on becoming a trichology specialist and a course on hair extensions. In the coming months, BBIM has plans to publish a comprehensive textbook on beauty consulting. The 400+ page tome is titled Standard Retail Beauty Consultant; the publication date is forthcoming.
About CosmoBiz
CosmoBiz, the parent magazine for CosmoBiz Salon, is a monthly hair and beauty publication by BBIM. While the content of the two differ slightly, the goal of both publications is the same; to offer the latest and greatest information on the hair market. CosmoBiz has been reporting on professional beauty products as well as wigs and extensions since September of 2009. The magazine functions as the presentation platform for BBIM's research as well as a space to discuss a wide variety of matters related to the industry.