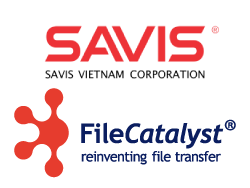 'Being able to supply our customers with FileCatalyst, a solution to their file transfer needs, is a great feeling and something we're proud to do.'
Ottawa, Canada (PRWEB) August 29, 2014
Unlimi-Tech Software, Inc., a pioneer in managed file transfers and the creator of FileCatalyst, a world leading accelerated file transfer solution, is pleased to announce a new channel distribution partnership with SAVIS Vietnam Technology Solution Corporation (SAVIS).
Founded in 2004, SAVIS has relationships with leading IT vendors worldwide, providing the most comprehensive solutions and services for their customers. SAVIS' focus on quality and professionalism has lead to a solid reputation and as a result SAVIS has become a leading provider of IT technology solutions in Vietnam. Striving to research, develop, and provide the most advanced IT solutions in order to meet the rigorous requirements of their demanding clients, the company is dedicated to providing superior customer satisfaction. SAVIS, along with its partners, provide solutions for government, healthcare, enterprise, and GIS (Geographic information systems).
In partnering with FileCatalyst, SAVIS has committed to providing the latest in accelerated file transfer technology to their clients looking to increase the speed of file transfers without compromising reliability and security. The FileCatalyst's platform is immune to packet loss and latency while transferring large files over vast geographical distances, which is ideal for SAVIS customers with global locations. While other methods of file transfer are unable to keep up with increasingly larger file sizes, FileCatalyst ensures the transfer of any file, of any size or format, at speeds of up to 10 Gbps.
"We're excited to announce this partnership," said Hoang Nguyen Van, CEO and Founder at SAVIS. "Being able to supply our customers with FileCatalyst, a solution to their file transfer needs, is a great feeling and something we're proud to do."
"File transfer challenges are a global issue," said Unlimi-Tech's Vice President of Business Development, Alan Atkinson. "With FileCatalyst, it no longer matters where you're located, how big the file is, or how secure the process should be, our technology solves these issues. We're thrilled SAVIS will now be able to provide this solution to their customers."
About Unlimi-Tech
Located in Ottawa, Canada, Unlimi-Tech Software is the creator of FileCatalyst, a world leading accelerated file transfer solution. Founded in 2000, the company has more than a thousand customers in media & entertainment, energy & mining, gaming, and printing, including many Fortune 500 companies as well as military and government organizations. FileCatalyst is an Emmy Award winning software platform designed to accelerate and manage file transfers securely and reliably. FileCatalyst is immune to the effects that latency and packet loss have on traditional file transfer methods like FTP, HTTP, or CIFS. Global organizations use FileCatalyst to solve issues related to file transfer, including content distribution, file sharing, and offsite backups. To learn more visit http://www.filecatalyst.com or @FileCatalyst on Twitter.
About SAVIS Vietnam Technology Solution Corporation
SAVIS Technology Solution Joint Stock Company was founded in 2004, and has been developing to become one of the biggest IT company in Vietnam, in which its key business areas includes system integration, development software and services and IT services. With regard to System Integration, SAVIS provides overall solutions in system integration for customers at diversified fields, such as: IT infrastructure solutions (server system, storage system, network system, backing-up system, precautionary system…), security solutions (network security, application security, data encoding, digital security...); Data center solutions (Database infrastructure, data consolidation, data center transformation, data center disaster recovery, data center relocation services), unified communication solutions, IT infrastructure administration NOC/SOC... Throughout the development of SAVIS, the vision constantly focuses on capacity building of IT personnel, and relationship development with worldwide partners in IT industry, in order to provide the best IT solutions and services for customers, and bring out the biggest values and benefits that could adapt demands of customers. Click http://savis.com.vn/ for more information.