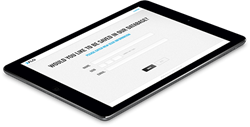 FitProfiler represents a new approach to a personalized consumer experience in a retail setting - while immediately assisting the sales-associate with a step-by-step approach to their sales process.
Boston, MA (PRWEB) August 20, 2014
For businesses and organizations, data collection is changing at a rapid pace. The internet has opened up a world where clicks are measured, time spent on pages is documented, and essential decisions are driven by those data points. In many ways, the internet is constantly sending unconscious "feedback" to companies and organizations, based on our online behavior. In a very real and obvious way, this interaction documentation benefits both the business and the consumer, providing invaluable information about trends, the effectiveness of advertising, and also providing the consumer with a more personalized and convenient experience, as any Amazon customer knows!
When it comes to the in-store experience and the "person-to-person" experience, there is something lacking with regard to data collection. Instead, interactions take place between people, and until now there has not been a coherent solution to getting the same "interaction data" that the internet so generously provides organizations. Enter FitProfiler, a web-app currently in beta-testing that is designed specifically to fill the space between "ground-level" and "online" consumer interaction through a mobile workflow that makes a running-shoe fit process more rewarding for everyone involved. This web-app is the first of a new line of solutions developed by zFlo, Inc. under the new business division "ZFLO Workflow Solutions."
ZFLO seeks to bridge the gap that exists between the "internet" experience of services and goods, and the "real-world" experience in a retail store or facility. By developing new and customized mobile applications, ZFLO is changing the way that customer interactions are gathered, reviewed, and analyzed. FitProfiler is the first project that realizes these goals – and is currently in beta-testing in running-specialty retail shops in Florida. By moving through a workflow with the customer, each interaction is documented, timed, and key data-points are captured – all in a natural and non-obtrusive way.
Additional applications are in development as well, including a cross-platform system for in-store CRM and lead collection and eCommerce offers and purchasing options – all tied together with a mobile experience that is consistent and clean for the consumer. Other projects include applications designed for web-based surveys that are natural and easily navigated in a step-by-step manner.