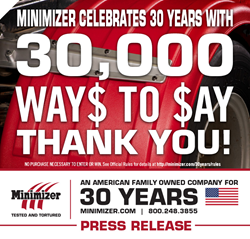 Blooming Prairie, MN (PRWEB) August 20, 2014
Thirty years ago Lorraine Kruckeberg backed her vehicle over a Rubbermaid trash can, inspiring her husband Dick Kruckeberg to invent heavy-duty poly truck fenders. Thus, Spray Control Systems, Inc., which does business as Minimizer, was born.
"We've grown exponentially during the past 30 years," said Craig Kruckeberg, CEO and chief visionary at Minimizer. "We began manufacturing fenders and have expanded into other areas of the aftermarket heavy-duty trucking industry by offering an array of bracket kits, toolboxes, customized floor mats, LED lights, slick disks, decorated mud flaps and now a new maintenance line."
After 30 years of success and longevity, the Company is celebrating by announcing the Minimizer 30th Anniversary Sweepstakes at the Great American Trucking Show in Dallas, Texas, running August 21-23, 2014.
"Thirty years of successful product innovation and marketplace growth is a milestone we want to share with our distributors and truck operators who made it possible," said Jason Rhoads, director of marketing at Minimizer. "GATS (Great American Trucking Show) provides the perfect platform to announce the Minimizer 30th Anniversary Sweepstakes."
Details of the Minimizer 30th Anniversary Sweepstakes will be announced at GATS. After the announcement, visit the Minimizer website at http://www.minimizer.com to learn more. The Sweepstakes will run from Aug. 21 – December 31, 2014. No purchase necessary to enter or win. See Official Rules for details at http://minimizer.com/30years/rules.
For more information, call us at (800) 248-3855, visit our website or email us at info(at)minimizer(dot)com.
About Minimizer
Leveraging 30 years of manufacturing expertise at its state-of-the-art manufacturing facility in Blooming Prairie, Minnesota, Minimizer delivers fenders, bracket kits, the NEW Tire Mask, floor mats and accessories that will enhance the performance of all makes and models of over the road trucks, construction vehicles, or agriculture equipment.
Minimizer has been family owned and operated for three generations. The Company manufactures its products in the USA and makes everything tough enough to please tough people in a tough industry.
To order Minimizer heavy-duty products find a distributor by clicking here. Minimizer poly fenders and related products are available exclusively through Minimizer distributors.
For more information or to contact a dealer, call us at (800) 248-3855 or visit our website or email us at info(at)minimizer(dot)com.