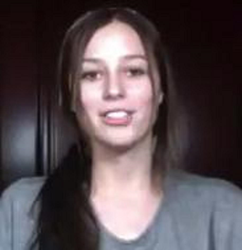 (PRWEB) August 19, 2014
In today's easy beginner acoustic guitar lesson Zollars teaches the song Let It Be by The Beatles which is very easy due to it only having two parts: verse and chorus. Paige starts off by going over the guitar chords that are used in the verse as follows: C, G, Am (A minor), F, C, G, F, C, Dm (D minor) and C, all of which are played in the open position. Next Zollars demonstrates the strumming pattern as being all down strokes and counted as 1/8th notes and that each chord receives two beats until the last four chords, F, C, Dm and C, when the strumming is a little bit more complex, but Zollars does a great job of making it easy for a beginner to pick up. Next Paige goes over the chords for the chorus as follows; Am, G, F, C, G, F and C. Zollars demonstrates the strumming pattern as being the same as the verse with one two beats for each chord. Paige continues this easy guitar lesson by performing the song so you can hear how it should sound. Complete guitar chord charts as well as guitar tabs are available for this beginner acoustic guitar lesson at SongTabs.com.
The Beatles was an English rock band from Liverpool. They are regarded as the most successful and influential rock band of all time. Over the course of there career they released 12 albums before disbanding in 1970, selling over 177 million albums. They hold the record for the most Hot 100 Hits and have received ten Grammy Awards.
Paige Zollars
Has been a singer and song writer for the last 6 years and performs at fairs and coffee shops in her area. She has an original song "Broken" available on ITunes and works for a company called KlabLab where she makes educational songs for the classroom.
About SongTabs.com
SongTabs.com is a great online resource for learning to easily play your favorite songs on the guitar. With several great instructors and a constant growing catalog of songs, everyone can learn to play there favorite songs.