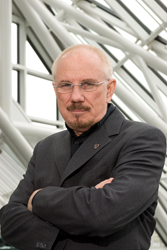 EL DORADO, Ark. (PRWEB) August 21, 2014
Today, El Dorado Festivals & Events announced that Terry Stewart, former CEO and president of the Rock and Roll Hall of Fame and Museum will lead El Dorado Festivals and Events Inc., as the nonprofit agency seeks to establish the small south Arkansas city as an entertainment hub that rivals other tourist destinations.
Stewart also served as president and chief operating officer and later as vice chairman for Marvel Entertainment Group, the comic book giant responsible for such superheroes as Spider-Man, the X-Men and the Avengers. When Marvel went public in 1991, Stewart was named CNBC Marketing Executive of the Year.
His civic and philanthropic endeavors include a governorship on the Chicago Chapter Board of the Recording Academy (Grammys), vice chairman of the board of the Rhythm & Blues Foundation in Philadelphia and he serves as an advisor for the annual Summer Stage Concert Series in Central Park, in New York City.
Stewart will serve as Chairman of the Board and Chief Executive Officer for El Dorado Festivals and Events. His background made him the perfect fit for the position, said Austin Barrow, president and chief operating officer of the organization.
"We want to make El Dorado a cultural destination focusing on entertainment and great food that will draw people from around the region and potentially around the country," Barrow said. "We believe that with his well-recognized background in the entertainment industry, Terry Stewart is the ideal person to help us do that. The recruiting and hiring of such a distinguished person demonstrates the commitment of El Dorado Festivals & Events to achieving our ambitious goals."
An Alabama native, Stewart, earned bachelors degrees in engineering and education from Rutgers University. He also earned a master's degree in business and a law degree from Cornell University. An avid collector of pop culture memorabilia, Stewart said his collection includes records, concert and movie posters, rock and roll memorabilia and jukeboxes.
Stewart said he looks forward to becoming part of the El Dorado community for this new challenge. Although this decision may seem odd to some, those who know him won't be surprised.
"My career has taken many twists and turns over the years and that's how I like it," he said. "I studied engineering and education then got a masters in business and a law degree. I worked in banking, strategic planning and business development, but I was always drawn to music and the arts in general. That's what made working for Marvel and then the Rock Hall a perfect fit for me. Working with El Dorado Festivals and Events will give me an opportunity to harness my passions and hopefully improve the quality of life for this region and highlight this exceptional town. I can't wait to get started on this exciting endeavor."