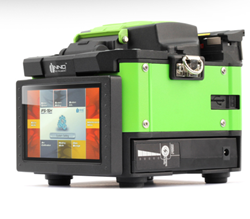 After considerable evaluation of different products, we standardized on theINNO line of fusion splicers. We found it to be operator friendly, quick,accurate and cost effective. Combined with excellent service and support...
Ontario, Canada (PRWEB) August 20, 2014
"After considerable evaluation of different manufacturers, we standardized on the INNO line of fusion splicers. We found it to be operator friendly, quick, accurate and cost effective. Combined with excellent service and support from Toronics, it has proven to be an outstanding choice" - R. Bennett, Operations Manager Cable Control Systems, Optical Division.
"In both the traditional outside plant markets, as well as new rapidly growing markets requiring fusion splicing such as in-building DAS and data centers, we at Toronics have seen a very receptive market in Canada for INNO products. Beyond the superb quality of the INNO fusion splicers, customers love the no headache standard 3 year warranty.
To add even more value above and beyond the competition, having a strong partnership with INNO and FiberOptic Resale Corp has allowed us to jointly develop and bring a manufacturer's certification fiber slicing training program for fiber technicians using INNO fusion splicers. This allows our customers to get the most out of their investment and have confidence in their fully trained technicians properly using the equipment day after day." - Scott Marcaccio, Sales and Marketing Director, Toronics Inc.
FiberOptic Resale Corporation-supports Toronics in the distribution of INNO Instrument Core Alignment Splicing products in the Canadian market. "Toronics is making big strides with INNO Instrument splicers with all the major structured cabling companies, service providers and fiber contractors. Scott has implemented a great INNO Instrument training program for fiber technicians. INNO Instrument service and support are also keys to the success that Toronics is having" George Kyrias President, FiberOptic Resale Corporation.
About FiberOptic Resale Corporation
FiberOptic Resale Corp (FORC) is a dedicated value added stocking distributor and service center servicing the fiber optic industry. We bring high-quality, cost-efficient products to the CATV, Contractor, Enterprise, and Telecommunications marketplace. These products are centered on the Outside Plant (OSP), Central Office (CO), and head end areas of our customer's environments.
With a wide variety of services including in-house technicians we repair, clean & calibrate fusion splicer's, OTDRs and cleavers and more. FORC is the largest INNO Instrument authorized fusion splicer service center. Our clients benefit from our "In the field" philosophy with on-site demos and training sessions to help technicians keep up to date on the latest products. To request a product demo, please call 877-287-7535.
About Toronics
Toronics was established for the purpose of offering products and services to telecommunications companies throughout Canada. We are a young and rapidly growing company operating in the Canadian market offering access to high-quality world leading suppliers.
Our wide product selection allows us to offer various expert solutions which, when combined with different logistics services, guarantee the satisfaction of the needs of our clients on the market for telecommunications infrastructure equipment. We see partnership as the foundation of our entire business rather than just a nice word.