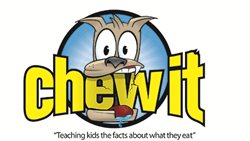 'We created this fun, educational video and Web site as a cool approach to encourage kids to stay away from sugary drinks and make it cooler to drink water instead,' said Dr. Willey.
Pocatello, ID (PRWEB) August 26, 2014
Globally, 1 billion soda pops are swallowed each day, including energy drinks. That's not only a lot of calories, sugary drinks are a major contributor to our nation's childhood obesity epidemic. To address this growing epidemic, Idaho physician and national weight-loss expert, Dr. Warren Willey, is pleased to announce the launch of a new cartoon and Web site for his not-for-profit organization: CHEW IT! http://www.chewitkids.org. Dr. Willey and his affiliates are crusading to spread the not-for-profit organization's "Stick it to Sugar" message to schools across the country throughout the 2014-2015 school year.
"Our goal is to get kids to CHEW IT, not drink it when it comes to their calorie intake," said Dr. Willey. "We created this fun, educational video and Web site as a cool approach to encourage kids to stay away from sugary drinks. Our goal is to make it cooler to drink water instead."
The fun doesn't stop with the organization's new animated video. CHEW IT! has several kid-friendly goodies available for distribution, including stickers, water bottles and puzzles that serve as a great daily reminder to kids to stay the course on the CHEW IT! crusade.
CHEWITKIDS.org also offers an affiliate program, engaging individuals across the nation who have a passion for the health of the United States – in particular, its children – to become CHEW IT! Crusaders. Our CHEW IT! Crusaders include individuals who simply believe in the message and avoid liquid calories as an example to kids. Other Crusaders take the CHEW IT! cartoon and other goodies into schools, church meetings, childcare centers – wherever groups of kids meet up – and present the topic, show the cartoon and hand out stickers and other CHEW IT! gear to get kids excited about the program. Well-known Crusaders include bodybuilding.com spokesmodel, optimum nutrition athlete and fitness expert, Steve Cook, and Miss Ohio International, Cambree Moser.
"Our goal is to sign up Crusaders across the country so we can get this video shown in as many schools across the country as possible during the 2014-2015 school year," said Dr. Willey.
CHEWITKIDS.ORG is eager to hear from any interested individuals. For more information or to share your story, reach out through email at chewy(at)chewitkids(dot)org or visit CHEW IT! on Facebook, Twitter and Instagram.
About Dr. Warren Willey
CHEW IT! Founder, Dr. Warren Willey is the Medical Director of a medical weight loss center and primary care office in Pocatello, Idaho. His unique approach to patient care offers preventative medical intervention so his patients can obtain optimal health and fitness through elite nutritional programs, diet strategies, hormonal optimization, and exercise programs. He is a Board Certified Osteopathic Physician. He completed his postgraduate training at The Mayo Clinic. He is a founding diplomat of the American Board of Holistic Medicine and a diplomat with The America Board of Family Medicine, The America Board Urgent Care Medicine and The American Board of Obesity Medicine. Dr. Willey is sought after public speaker with speaking engagements around the country concerning obesity medicine, laboratory medicine, hormone replacement, and other medical and fitness related topics. He is the author of a medical textbook and What Does Your Doctor Look Like Naked? Your Guide To Optimum Health, re-released in 2003. Another book, Better Than Steroids! is sold internationally as it is the most concise summary of what you need to know to get that ultimate physique! Other books to his credit are The Z Diet, the secret to long-term dietary adherence, and The T Club – A Strategic Guide to Male Hormone Replacement. Dr. Willey also writes for a number periodicals and web sites. He has 30 years experience with exercise development and nutritional intervention.