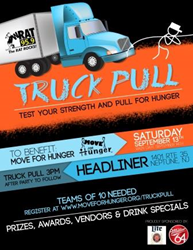 Urbana, IA (PRWEB) August 20, 2014
US Cargo Control, a distributor of professional moving supplies, has been named a sponsor partner in Move For Hunger's Truck Pull fundraising event.
The event, to be held September 13th in Neptune, New Jersey, will feature teams of ten individuals pulling two 18-foot trucks in a timed competition. Money raised from the event supports Move for Hunger's mission of alleviating hunger in America.
Move For Hunger is a non-profit organization that works with over 600 moving companies across North America to pick up non-perishable items during the moving process, and delivers them to community food banks.
As a bronze level sponsor, US Cargo Control will be making an in-kind donation of rope for the first annual event.
Sarah Watson, Team Lead in US Cargo Control's Moving Supplies Division, says the company is excited to be able to donate supplies for the first annual event.
"We're thrilled to support Move for Hunger's first Truck Pull event! The organization truly appreciates their partners in the moving industry and continues to lead in unique ways to fulfill their mission of alleviating hunger," said Watson. "We wish the participating teams all the best during the upcoming event."
According to Kristy Redford from Move For Hunger, the truck pull event was created to mark the organization's fifth anniversary and its recent milestone of having delivered over 3.5 million pounds of food to those in need.
"September is Hunger Action Month. The Jersey Shore Truck Pull event was created to bring the community together and raise awareness for the hunger crisis in America. We are grateful to US Cargo Control for their generous donation and sponsorship of this event, which will allow us to keep 100% of the proceeds for hunger relief efforts. It is in thanks to the collaboration and generosity of our supporters that Move For Hunger continues to grow and make an impact on hunger in America."
To learn more about the Move For Hunger event, visit: http://moveforhunger.org/truckpull/
###
About US Cargo Control
US Cargo Control is a leader in the cargo control industry, specializing in lifting slings, cargo control, rigging equipment and moving supplies. Focused on offering quality products, timely delivery, and an excellent customer experience, customers can purchase products on the company's website, USCargoControl.com or by calling the company's dedicated team of moving supplies specialists at 800-867-1210.
About Move for Hunger
Founded in 2009, Move for Hunger is a 501(c) 3 hunger relief organization dedicated to alleviating hunger in America. Working with over 600 moving companies throughout North America, Move For Hunger picks up non-perishables during the moving process and delivers them to community food banks. For more information, visit http://www.moveforhunger.org.