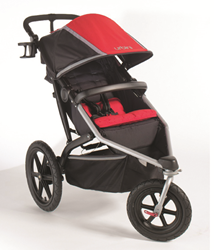 "The Urbini Avi is a true, all-terrain performance jogger, with a generous set of features."
Boston, MA (PRWEB) August 20, 2014
Fresh from the cradle of a world-class running city, an inspired new jogging stroller just sprung from the starting blocks.
Urbini, a new collection of versatile baby gear from award-winning design studios, has added the Urbini Avi jogger to its lineup.
The Avi has been in development for nearly a year, with a look inspired by the latest racing styles and a set of features to surprise and delight fitness-minded parents.
This versatile jogger offers a swift, smooth ride on runs, power-walks and causal strolls. It's packed with extras like an adjustable handle, cup holder and additional reflective accents for added visibility. It's convenient, freeing your hands with a quick, one-handed, self-standing fold, a single-touch brake, an adjustable canopy and a roomy storage basket. Its rugged, all-terrain suspension, swivel-lock front wheel and inflatable rubber tires make jogs more comfortable for you and your baby.
"The Urbini Avi is a true, all-terrain performance jogger, with a generous set of features," said Greg Miller, Urbini's vice president of marketing. "A stroller that can run with active parents means never trading family time for fitness time."
Urbini's line of contemporary baby gear also includes the newly-released Urbini Hummingbird, Urbini Touri, Urbini Omni and Urbini Petal, all available exclusively at Walmart and Walmart.com.
For images and editorial product samples for review, contact Adam Ritchie at (617) 819-4237 / media(at)urbinibaby(dot)com.
Urbini is a global juvenile products brand with design studios in Boston, Tokyo, Shanghai, Hong Kong and Amsterdam, which have created some of the world's most popular baby gear. Owned by the world's largest manufacturer of baby products, all Urbini gear is created and built in-house, and tested on-site. Urbini uses the latest techniques, materials and technology to create versatile and stylish products at an unbeatable value. For more information, visit urbinibaby.com.