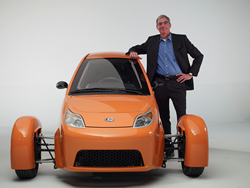 (PRWEB) September 06, 2014
Startup transportation company Elio Motors is due to launch a vehicle in 2015 that will get 84 MPG and sell for just $6,800. The enclosed three-wheeled vehicle prototype is currently on a nationwide tour and is generating significant customer enthusiasm. So far, more than 34,000 people have reserved a spot in line.
Though the company's price and fuel efficiency benefits are well documented, there are several items that add to the unique vehicle's story. Here are just a few:
10 Fun Facts about Elio Motors:

The vehicle only comes with one door. Because the vehicle is a two-seater, front to back, there is no passenger seat next to the driver. Therefore, there is no practical reason to have a door on the right side of the vehicle. By eliminating the second door, the company was able to save nearly $200 per vehicle.
Though the vehicle is incredibly fuel efficient, it still has a top speed of over 100 MPH.
CEO Paul Elio was once a New York City cab driver. Because he met so many interesting people in the course of a day, he called it "the most fun job I've ever had."
The Elio Motors tour has racked up more than 70,000 highway miles traveling from state to state with the Elio prototype. So what's the most commonly replaced road item? Shoes. The average team member is on their feet up to 60 hours a week.
The Elio, because it has three wheels, is classified by the government as a motorcycle. But, the company is really creating an entirely new class of vehicles and refers to the Elio as an "autocycle."
Elio Motors' nationwide tour has been to 80 cities and 28 states.
At highway speeds, the Elio can go a projected 672 miles on a single tank of gas. Someone who lives in Los Angeles, CA can head out to Las Vegas, NV for a fun weekend, and still have enough gas to get home should lady luck be less than gracious. For the east coast folks, you can go from Detroit, MI to New York, NY on a single tank.
The Elio will be manufactured at a facility in Shreveport, La. It is a former General Motors plant where they produced the Hummer H3 and Colorado pick-up trucks.
The Elio is extremely popular with people who also have an affinity for airplanes. The cockpit-like interior and futuristic styling are as close as you can come to flying without leaving the ground.
At $6,800, the Elio will cost approximately 4.5 times less than the average new car. AT 84 MPG, the Elio will get nearly three times better gas mileage than the average vehicle.
About Elio Motors
Founded by car enthusiast Paul Elio in 2008, Elio Motors Inc. represents a revolutionary approach to manufacturing an ultra-high-mileage vehicle. The 3-wheeled Elio is engineered to attain a highway mileage rating of 84 mpg while providing the comfort of amenities such as power windows, power door lock and air conditioning, accompanied by the safety of multiple air bags and an aerodynamic, enclosed vehicle body. Elio's first manufacturing site will be in Shreveport, La., with plans for the first production vehicle to roll off the assembly line in 2015 and significant production, sales and distribution during the next two years. For more information, visit http://www.eliomotors.com or http://www.facebook.com/ElioMotors.